Chessington, 07 May 2009. Kingston Council has spoken about its strategy for IT service delivery and its approach to delivering a transparent and effective service to its IT users using Sunrise's Sostenuto IT service management software.
Vivien Day, the Borough Council's ICT services delivery manager, oversees support to the council's 2,500 employees and councillors, who are spread across many different sites: "Sostenuto allows us to hold all of our data in one place." says Day. "It brings together all of the information we need, be it for servers and network, web applications, ISIS, you name it. Instead of disparate silos, we have one coherent entity, and that makes our job so much easier."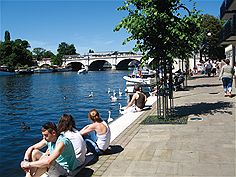 Kingston riverside
The IT users are also delighted with a system that keeps them in the loop. Sostenuto automatically sends out notifications to users regarding their call status, so they know that their issues are being worked on.
"Another benefit we've seen has been on the reporting side.", adds Day. "With the pressure on councils to make taxpayers' money go as far as possible, it's crucial for us to be very transparent about how we are doing, so the quarterly reports we produce are important. Sostenuto has made this process easier, less time-consuming and more automated."
Sunrise Chairman Tom Weston commented: "Councils have to contend with just that extra bit of pressure to get it right when they select their IT systems. We are very pleased to see how successful the Sostenuto implementation has been for them and proud to count Kingston council among our long standing customers."
Sunrise has published a full case study on its website www.sunrisesoftware.co.uk.
About Sunrise Software (www.sunrisesoftware.co.uk)
Sunrise was founded in 1994 and is a leading independent provider of IT Service Management solutions.
Its customer base includes over 1,000 blue chip and public sector organisations, including names such as Anglian Water, Mothercare, the NHS, Harper Collins, Rugby Football Union and Landesbank Baden Wurttemberg.
Sunrise is widely recognised for excellent service, and product innovation is key to its long-term vision. This is the strategy behind the launch, in 2003, of Sostenuto ITSM, a process driven, entirely browser based solution to complement Enterprise, its well-established client-server offering.
2007 saw the launch of Sostenuto Foundation, a browser-based solution that offers the core ITIL processes out of the box. Foundation allows customers to take a step-by-step approach to ITIL, an alternative to the 'ITIL all-in' approach available with Sostenuto ITSM.
For further information, please visit www.sunrisesoftware.co.uk.
Media Contact:
Angela Steel
Marketing Manager
020 8391 9000
asteel@sunrisesoftware.co.uk