LBi UK is excited to welcome Glenn Jones as Client Partner overseeing Barratt Homes, Invesco Perpetual, Food Standards Agency, Waterstones and Tourism Ireland. Glenn will also take on the role of UK Client Services Director. Glenn Jones joins LBi from Isobar where he was founder and MD of the network's merged Anorak and de-construct entity. Glenn also sat on the Isobar UK exec committee helping to identify new integrated business opportunities for the group.
As Client Partner Glenn will be responsible for ensuring valuable and strategic client relationships are in place across all accounts. Glenn will also be taking on the responsibility for leading the development of the Client Services department as Client Service Director in the coming months.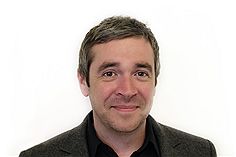 Glenn Jones at LBi
Glenn founded Anorak digital out of glue London in late 2006 to provide a high-end digital design and production agency for the Aegis-owned Isobar group. Responsibilities included the day-to-day running of a digital creative agency, leading and managing senior client engagements, recruitment and retention of staff and leading agency new business responses. In the summer of 2009 Glenn began work on the merger of Anorak digital and sister creative agency de-construct which was completed in Oct 2009. In the past, Glenn has led Nokia, Absolut, Sky, Birds Eye, Airmiles, Johnson & Johnson, Coke, Virgin Atlantic, COI, Virgin Money, Channel 4 and Gillette.
Glenn Jones is excited to be onboard.
"There is an incredible self-belief and confidence here. To find an agency with such a talented group of people, expertise and credibility in such a wide range of services, combined with real creative ambition is very rare and very exciting to be a part of."
Anil Pillai, MD of the UK office says: "I'm thrilled Glenn has taken on the challenge of Client Partner at LBi. He is a relaxed and confident leader whose skills are an excellent match for our proposition to clients. His experience of delivering solutions to leading brands that blend of creativity, social and media will inject more ambition to our established client relationships. I look forward to working with him over the coming years and welcome his contributions to the development of the agency."
For further information please contact:
Sarah Van Praagh, Head of PR, LBi
+44 20 7063 6141, sarah.vanpraagh@lbi.com
Imogen Thacker, Marketing & PR Assistant, LBi
+44 20 7063 6155, imogen.thacker@lbi.com
About LBi
LBi is a global digital marketing and technology agency, blending insight, creativity and expertise to solve business problems. The largest genuinely full service agency of its kind in Europe, LBi provides the full range of digital capabilities, including digital strategy, branded content, service design, media, CRM, technology, managed hosting and support services. The company employs over 1,500 professionals located primarily in the major European, American and Asian business centres such as Amsterdam, Atlanta, Berlin, Brussels, London, Milan, Mumbai, New York, Paris and Stockholm. LBi is listed on Nasdaq OMX in Stockholm and NYSE Euronext in Amsterdam (symbol: LBI).