Active Noise Rejection now available for Apple devices, batteries not required

London, 22 July 2010 – Blackbox, the world's premier provider of best-in-class audio products designed for personal listening, today announced the launch of its exciting new i10 earphones specially created and designed for iPod and iPhone users.
In a UK first, the i10 earphones (£79.99 RRP) are powered directly by the device through Apple's unique 30 pin dock connector. The i10's are designed to improve the device's sound quality and provide a clear and authentic listening experience through Active Noise Rejection™ (ANR) technology. The earphones offer maximum comfort, wearability and style with an integrated monitor function and volume control which is ideal for listening to music on the go.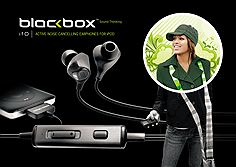 Blackbox i10
The i10 earphones provide an enthralling listening experience with deep bass, clear vocals and natural highs by cancelling 92% of background noise using ANR technology provided by Phitek Systems; a global leader in electro-acoustic technologies and active noise-cancellation. ANR is a unique patented technology that virtually eliminates disturbing background noise. It works by intelligently measuring the noise field in the ear, before calculating and reintroducing an 'anti-noise' response, resulting in near silence by continuously adapting to the prevailing noise conditions.
Neil Truckell, UK Brand Manager of Blackbox comments: "This product presents something truly unique for Apple and music enthusiasts here in the UK. Through its Active Noise Rejection technology, the i10s are the first earphones to operate without the need for external batteries and provide the ultimate upgrade path for iPOD/iPHONE users, keen to dramatically improve sound quality and comfort. Its competitive price point makes it an amazing addition to your device so you can simply enjoy music on the go. This is just one of the upcoming innovations from the Blackbox family."
The Blackbox i10 earphones are available to order now from Amazon.com and Play.com.
Technical Specification for the i10:
iPod 30 pin dock

Active Noise Reduction – Up to 92% (22dB)

Passive Noise Isolation – Up to 30dB >1kHz

Connector cable 800mm, Earphone cable 450mm

Slide volume control

Lateral, in-ear earphone with an ergonomic design and monsoon skin

Power – supplied by iPod

Comes with a set of 3 grommet sizes (S,M,L)
ENDS
For further information please contact:
Press and Media
Champion Communications
Ph: 020 7268 3439
Email: blackbox@championcomms.com
About Blackbox
Blackbox™ is the result of a carefully designed programme that was developed to transform Phitek's latest and most innovative Active Noise Reduction (ANR™) technology into an array of personal listening products capable of satisfying consumer needs at several price points. Blackbox™ plans to further extend its reach globally in 2010 with the introduction of a wider variety of headphones and earphones. Blackbox designs and creates best-in-class and world-leading ANR™ products that are streamlined and functional as well as effective, ergonomic, and stylish in design.
Phitek created the Blackbox™ brand in response to high levels of interest from their first and business class passengers on some of the world's most successful airlines.
For more information please visit http://www.blackboxonline.com/
About Phitek Systems Limited
Phitek Systems is the world's leading supplier of electro-acoustic technologies for audio enhancement and active noise cancellation. Focused on innovation and invention, Phitek provides global customers with creative solutions for the effective reduction of ambient noise based on its patented Active Noise Rejection (ANR™) technology.
Phitek ANR™ was originally developed for use in commercial passenger aircraft where background noise is insidious leading to hearing loss, fatigue and stress. Today, Phitek ANR™ is used by more than 50 airlines worldwide, servicing more than 15 million passengers each year. The technology works by measuring the noise field close to the ear and then calculating an "antinoise" response which is sent to the headphone speaker. The noise and antinoise signals combine to yield near silence. Phitek ANR™ is very effective at reducing background noise and unlike alternatives tunes its response to suit prevailing noise conditions.
Beyond aviation, Phitek ANR™ technology is utilised by leading brands in audio and mobile music and has been recognised by leading publications including Wired Magazine, PC Magazine and Macworld as "best-in-class". Phitek's impressive portfolio of patented solutions spans commercial aviation, consumer audio and mobile telephone segments in both in-ear, and on-ear formats. The company is a member of CSR's extension partner programme and is active in developing world first solutions for Bluetooth monaural and binaural applications.
Phitek is headquartered in Auckland, New Zealand with offices located in Hong Kong, Shenzhen, PRC, San Jose, California, Lausanne, Switzerland and Tokyo, Japan. For more information about Phitek Systems Limited please visit http://www.phitek.com/.