Accumulate and Juno Capital Asia in Joint Venture for mobile payments in China
Beijing, China and Stockholm, Sweden – August 29, 2011. Accumulate AB and Juno Capital Asia Limited with chairman Zhou Xiao He establishes a joint venture to commercialize Accumulate's award winning ME technology for mobile payments on the Chinese market. The ambition is to create a sizeable mobile security company on the Chinese market. Juno has strong resources in relation to the Chinese financial industry, which will be an important asset in the marketing of the technology.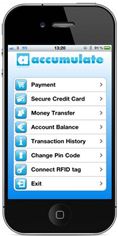 Mobile payment example screen
"Accumulate's mobile security platform is best in class in the industry. Together we now make this technology available for financial institutions in China, giving their customers next generation of mobile payment services," says Zhou Xiao He, Chairman of Juno Capital Asia.
"We are excited about the cooperation with Juno Capital. Combining the companies' resources and skills the target is to get new projects where our mobile payment platform is the base where customers use their mobile as a channel for many financial services," says Carl Palmstierna, Chairman of Accumulate.
The Joint Venture will have its office in Beijing.
More information
Stefan Hultberg, +46 70 350 5704, stefan.hultberg@accumulate.se.
Lars Aase, +46 70 144 1822, lars.aase@accumulate.se.
About Accumulate
Accumulate is a leading provider of secure online solutions for mobile. The company's patented technology offers solutions such as mobile financial services and security services using your mobile for secure authentication, login and electronic signing. For more information please visit www.accumulate.se.
About Juno Capital
Juno Capital is a privately owned investment and advisory company with extensive experience in the Chinese market and to develop and establish foreign companies in China, especially in the areas of ICT and Clean Technology.