Nexus will be partner for Accumulates mobile financial solutions, like mobile payment and mobile banking, in their markets worldwide.
Stockholm, Sweden – May 25, 2011. Nexus, a leader in identification and authentication solutions, and Accumulate, a leader in secure online solutions for mobile, has signed a partnership agreement. The agreement includes that Nexus will market Accumulates mobile security platform Mobile Everywhere and enabled mobile services to customers in the markets throughout the world where Nexus is active.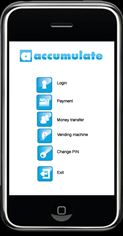 Accumulate mobile payment screen
"Expanding our offer with best in class mobile services is of greatest interest in the markets where we act. The partnership with Accumulate gives our customers the opportunity of next generation of mobile payment and mobile banking services," says Peter Gille, CEO of Nexus Group.
The partnership means that Nexus, with the mobile security platform from Accumulate, now can offer the following services and products to its customers:
• Mobile payments – POS, person-to-person, online, vending machines, remittance, etc.
• Mobile banking – all informational and transactional services.
• Other services – examples; ticketing, coupons, loyalty and membership points
• Online card transactions – example is using the mobile for 3D Secure.
"We are very glad for the partnership with Nexus. With Nexus unique experience in creating information security and e-communication solutions, now integrated and combined with our mobile services offer, we look forward to many and interesting projects together," says Stefan Hultberg, CEO of Accumulate.
More information
Peter Gille, +46 708 250 014, peter.gille@nexussafe.com.
Stefan Hultberg, +46 70 350 5704, stefan.hultberg@accumulate.se.
About Nexus
Nexus works internationally with e-communication, security and information solutions. Our clients are companies and organisations for which IT and the Internet are essential to the management of sensitive information and knowledge. Nexus' business concept is to offer solutions, products and services that make the right information available to the right people, at the right time, wherever they need it in the world. We help our clients to not only protect their information, communication and knowledge, but also to create opportunities to make more effective use of them. More information at www.nexussafe.com.
About Accumulate
Accumulate is a leading provider of secure online solutions for mobile. The company's patented technology offers solutions such as mobile financial services and security services using your mobile for secure authentication, login and electronic signing. For more information please visit www.accumulate.se.