Paris, France, 5th July 2012 – Bluwan S.A., a provider of carrier-grade multi-gigabit wireless solutions, has appointed Arnaud Cauvin as Bluwan's Chief Technology Officer (CTO). Cauvin will define and execute the technological roadmap as well as manage the development for Bluwan's range of industry leading wireless backhaul and access solutions.
"The appointment of a Chief Technology Officer to our team is a significant milestone in our company's history, and we're thrilled to welcome Arnaud to his new role," said Jean-François Galey Sand, Chief Executive Officer, Bluwan. "Arnaud has led and been involved in an incredible range of technology development projects over the last ten years. His vast experience in mobile backhaul and dynamism will be particularly beneficial to our organisation at a time when the mobile industry is undergoing radical development, such as the deployment of small cells and heterogeneous networks".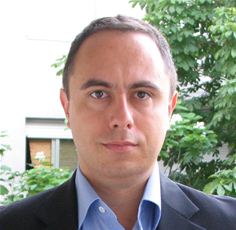 Arnaud Cauvin
Bluwan's technology was originally created by and spun out of Thales Communications for commercialisation under the Fibre Through The Air (FTTA™) brand. Today the technology has reached market maturity in applications for multipoint millimetre wave wireless backhaul, and high capacity wireless access. Cauvin's appointment will allow the company to continue its technology maturation in support of telecoms industry developments, such as the evolution of mobile network architectures, and convergent content service delivery platforms.

Previously head of broadband access and IP at Sofrecom, a leading telecoms consultancy and service provider, Cauvin managed a team of broadband network consultants covering technology architecture and strategy. Prior to Sofrecom, Cauvin managed the mobile backhaul refresh programme for France Telecom – Orange Group. During his tenure at Orange, Cauvin led the 'Next generation mobile network optimised backhaul' project for NGMN Ltd., collaborating with major telecoms operators worldwide. Cauvin began his career with the group in 2002 as a network engineering consultant before leading innovation and research in optical access networks.
Arnaud Cauvin said: "I'm delighted to be joining Bluwan at a time when the company is making significant headway in the market with its backhaul and access solutions. Bluwan has developed exciting, world class technology that offers significant improvements and additional features and benefits beyond existing industry offerings. I very much look forward to building on the company's technology innovation, and helping to establish Bluwan as an industry leader to follow."
-ends-
About Bluwan
Bluwan's carrier grade multi-gigabit wireless transmission technology allows service providers to increase the throughput and capacity of existing networks. Operating in the 12 GHz and 42 GHz spectrum bands, Bluwan's technology can be deployed primarily for mobile backhaul and wide area broadband access applications.
Offering fibre-like speeds and capacity, its compact radio antennas allow service providers to deploy multimedia services at a fraction of the cost of deploying optical fibre, whether to individual cell sites or to customer premises.
Bluwan's solutions are the culmination of several years of R&D performed in collaboration with the Thales Group in the defence and aerospace markets. Bluwan is headquartered in Paris, France, with additional offices in London.
For more information please visit www.bluwan.com.
Editorial contacts
CCgroup, for Bluwan
Liv Nixon / Sarah Wilson
Email: bluwan@ccgrouppr.com
Tel: +44 207 313 4592 / +44 1189207667
Shayan Sanyal
Bluwan
Email: ssanyal@bluwan.com
Tel: +44 203 384 9813