Goodwood Festival of Speed mobile application launches ahead of major event
21 June 2011, London: Audi UK and Somo (www.somoagency.com), Europe's leading independent mobile marketing agency, are launching the Audi Goodwood app across iPhone and Android for this year's Goodwood Festival of Speed (30th June – 3rd July). More than 150 000 motor enthusiasts are set to attend the event, which is hailed as "the largest motoring garden party in the world". This year's theme is 'Racing Revolutions – Quantum leaps that shaped motor sport', celebrating the ceaseless quest for increased power, greater efficiency and more speed.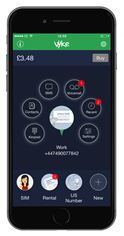 Homescreen
Hot on the heels of Audi UK's Guide to Le Mans 2011 application, which has reached nearly four times the expected downloads since launch, the pioneering Goodwood app will feed fan hunger for event information and technical specifications. Somo has implemented a cutting-edge augmented reality viewer that allows fans to use geo-positioning to guide them to the parts of the event they are most interested in - an enormous advantage when attending an event as huge and diverse as Goodwood.
The application includes detailed information about the Audi pavilion, including innovative 360 degree spins and technical specifications of the range of Audi cars that will be on display, a detailed interactive map of the event, the history of Goodwood, the all-important weather forecast and a gallery of images from past Goodwood Festival of Speed events. There are also twitter and facebook features to allow users to share their experiences and follow news of the event.
Hugh Fletcher, National Digital Manager at Audi UK, said, "The Goodwood Festival of Speed is one of the biggest events in Audi UK's calendar. Attendees range from families looking for a nice day out to enthusiasts. Our customers are very passionate about Audi engineering and we wanted to build an app that reflects that 'Vorsprung durch Technik' philosophy. The Goodwood app contains a huge amount of information, but is also fun and has some great new functionality that fits our customer profile. The app really gives fans the chance to interact with us at Goodwood in new and innovative ways.
Carl Uminski, Chief Operating Officer, Somo Ltd commented; "This app is the latest in a suite of mobile products Somo is creating for Audi, each one designed to allow Audi fans to use innovative technology to access information on Audi products and events. When it comes to a passionate and highly-informed audience like this, you have to be spot-on with what you're offering. Audi is a real innovator with its commitment to looking for new ways to interact with their fans via mobile and we are proud to support them in this vision."
-END-
About Somo
Somo is the leading independent European mobile marketing agency, specialising in strategy, design and build of mobile websites and applications, mobile advertising campaign planning and buying and campaign optimisation and management. Somo was founded by pioneers of the mobile marketing industry Nick Hynes and Carl Uminski.
PR contacts
UK
Speed Communications
Nicky Savage
+44 20 7842 3241
nicola.savage@speedcommunications.com
UK
Speed Communications
Nicole Hudspith
+44 20 7842 3245
nicole.hudspith@speedcommunications.com