Concert Pianist Performs Recitals for Indigenous Communities in the Amazon.
8 November 2011 Keys of Change today announced that founder Panos Karan will return to Peru and Ecuador to perform piano recitals for indigenous communities living along the Amazon River as part of its continuing work to build a sustainable musical education programme and use the power of music to change the world. Photographer Eloise Campbell and documentary director Daphne Kalafati will be part of the team for this trip.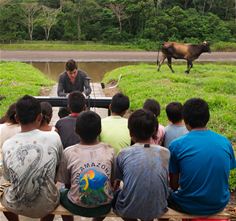 Music has no boundaries
Karan will travel to South America on 11 November for a month to share the world of classical music with people in remote villages in the Amazon basin. He will spend the first two weeks in Ecuador working playing music for people he met during his first visit in March and to create education opportunities. The last two weeks, he will travel downriver from Iquitos, Peru performing for new audiences.
"A Bach Prelude and Fugue or a Rachmaninov Piano Concerto belong to the Amazon Rainforest as much as to the glamorous stage of Carnegie Hall", says Karan. "Through Keys of Change, I am reaching places and people who wouldn't get a chance to witness a concert of this kind or to experience playing notes on a keyboard. This kind of audience inspires me immeasurably. Traveling by canoe, carrying a piano keyboard and sharing music with virgin audiences gives a whole new meaning to being a performing artist."
When Karan arrives in a new village he seeks out the elders and offers to perform, doing so only if they embrace the opportunity and invite him to share his love of music. The venues for these recitals are improvised. So far they have included a classroom, a village's communal house, the banks of the Amazon River and an open field. Karan completed the first leg of the 5000-mile Keys of Change musical adventure across the Amazon River in March (Bach in the Amazon I).
In August Karan travelled with Keys of Change to the disaster zone of northeastern Japan (Keys of Change: Journey of Hope in Japan), performing for communities affected by the 11 March earthquake and tsunami. He played 11 recitals in 8 days for people living in emergency shelters, schools and temporary housing. "Music can give hope and encouragement in times of the greatest grief, sorrow and despair," says Panos. "This trip has changed me as an artist and a person."
Keys of Change founder, 28-year old Panos Karan, was educated at the Royal Academy of Music in London. He made his professional debut performing at the Southbank Centre at the age of 19. Other notable appearances have included three solo recitals at Carnegie Hall, the Vienna Konzerthaus, the Hermitage Theatre (St. Petersburg) and the Athens Megaron Concert Hall. In 2009 he recorded Rachmaninov Piano Concerto No. 3 with the Orion Symphony Orchestra.
"Can music change the world? We believe it can." Is the motto of Keys of Change, which was established in August 2010 by people who deeply believe that playing music is one of the simplest yet strongest ways for people to build bridges for peace and make positive social changes that make the world a better place. Its partner in Ecuador, The Condor Trust for Education, provides financial support to children in South America who are desperate to attend secondary school but whose families cannot afford to send them to school. Keys of Change is working with The Condor Trust for Education in Ecuador and is supporting several children in the Amazon so they can continue their secondary school education and providing music education for them. Keys of Change is also organizing volunteers to teach music and English to these and other students in Coca and along the river Napo in Ecuador and Peru. Visit www.keysofchange.org to learn more.
###
Press contact: Amy Damianakes
Keys of Change
amy@damianakes.com
+1 925 9374561