New Jersey's Bamboozle became the latest festival to adopt 'next generation' RFID technology, offering 90,000 guests a contactless entry experience.
The festival which returned to Asbury Park for its 10th birthday, pulled around 90,000 fans over 3-days, each of whom used radio frequency identification (RFID) wristbands to access the site through digital entrance portals.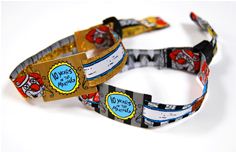 Bamboozle RFID wristbands
The wristbands, supplied by UK-based ID&C, featured a microchip enclosed in a waterproof tag, ideal for fans of the waterfront event.
Scott O'Donnell from organisers, Live Nation said "The festival was a real success thanks to contributions of partners such as ID&C. The technology worked great and the level of detail on the wristbands blew me away."
The festival, which featured seven stages of music, did away with traditional paper tickets, instead issuing fans with encrypted RFID wristbands, that, when activated, accessed ticket-holders' information from a secure database.
ID&C's operations director, Steve Daly said "The technology reduced queuing times, allowing fans to enter the site much quicker. The robust security of the RFID wristbands also stamps-out any fake tickets and 'pass-backs'."
Bamboozle joins a string of North American festivals including Sasquatch and Bonnaroo that have adopted the technology using ID&C's RFID wristbands, with the latter marking the 1 millionth RFID wristband the company has supplied to the U.S.
The Festival took place between the 18-20 of May. Headliners included Foo Fighters, Skrillex and Bon Jovi.
About ID&C Ltd
ID&C are a UK-based security wristband company servicing the world-wide festival and live event industry.
The company has over 17 years of experience and has worked with some of the world's largest festivals including, Coachella, Glastonbury, Lollapalooza, V-Festival and Austin City Limits.
www.idcband.co.uk
craig@idcband.co.uk
+44 (0) 1892 548 364