Malmesbury, UK - 1st May 2012, CPC has provided a number of print solutions to market leading UK manufacturer Walker Filtration. The result is improved quality, reduced cost and simplified manufacturing.
Based in Washington, Tyne and Wear, Walker Filtration is an award winning company that specialises in the design and manufacture of a wide range of industrial air filtration, drying and separation products. Addressing practically any industry where compressed air is used Walker Filtration has a worldwide customer base and an envied reputation for design innovation and technical leadership. 88% of its production is scheduled for export.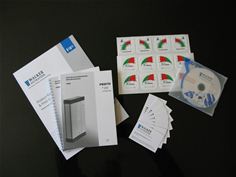 Walker Filtration
CPC started by providing simple CD duplication services for Walker Filtration price lists and followed up with a digital print solution for Product Guides which were formerly litho printed. In this instance limited run restrictions and the quality of print won through. A more substantial project followed in the form of user guides printed in three languages for a top client. CPC was able to suggest alternative 'wiro' binding to make the thick guides easier and more practical to use. Again limited runs made digital printing the perfect choice.
Another project, printed labels applied to the plastic bodies of filtration products was next to receive the CPC treatment. The labels had to be printed onto a waterproof substrate and easily applicable by staff on the production line. Vinyl labels on reels gave way to kiss-cut sheets of polycarbonate, providing higher quality and labels that are much easier to apply, something appreciated by staff on the production line.
Finally CPC has provided business cards. Previously litho printed the new cards are digitally printed on high quality stock, again in low runs which has proved more cost effective.
"Quality is of the upmost importance to us. With that in mind, the team at CPC understands our individual needs and suggests solutions to suit our requirements, which is exactly what we look for in a print partner," said Ross Hamilton, Marketing Manager at Walker Filtration.
"Coming up with appropriate solutions is part of the service we offer to all our clients. In this case we were able to prove the quality and advantages of digital print in small run situations, offer more appropriate binding solutions and improve the quality and ease application of printed labels on the production line. The result is a satisfied customer whose own clients have appreciated this greater attention to detail," said Kevin Assinder, Managing Director.
-end-
About CPC
CPC provides a range of highly personalised services that cater for an organisation's modern print, packaging and software publishing requirements, from design through to fulfilment. Holding stock and managing the distribution from the point of manufacture enables us to provide a fulfilment and logistics service that is second to none. And as the world moves from paper to electronic documents we have a developing range of complimentary value added services marketed under our eDocs brand. CPC has a strong environmental ethos, is certified under ISO 14001 for environmental management and Chain of Custody by the Forest Stewardship Council, (FSC). CPC is an ISO 9001 company.
PR Contact: William Allbrook,
T: +44(0)1666 826641
E: william@allbrook.net
Walker Filtration
Established in 1983 Walker Filtration design and manufacture a wide range of industrial air filtration and drying equipment for use in compressed air, compressed gas, vacuum and medical applications with 85% of products exported worldwide. Walker Filtration provides not only highly specified standard product ranges but also customised solutions designed specifically to customer requirements and assure product performance to the highest and most exacting international standards.