iomart praised as a UK market leader for cloud hosting at Digital Technology Awards
iomart Group plc (AIM:IOM), is proud to announce that it won the award for Outstanding Performance in Business Growth at the Digital Technology Awards.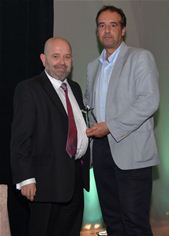 Award presentation
The judges praised iomart Group's financial performance, profitability and ability to deliver on its business strategy, describing it as "one of the leading cloud computing and managed hosting companies in the UK."
iomart Group plc CEO Angus MacSween said: "We are delighted to have won this award. Our strategy has been to position the iomart Group and its range of hosting brands to capitalise on the continuing growth in the market for cloud services. This market is still large, fragmented and growing and we see real opportunities to benefit from this over the next few years."
iomart Group plc recently released its annual results which showed that revenue grew by 33% to £33.5m (2011: £25.3m), while pre-tax profits grew by 91% to £6.9m (2011: £3.6m).
Polly Purvis, Executive Director of awards organisers ScotlandIS, said: "The technology sector, worth £4bn to the Scottish economy, is a key driver for growth and a jewel in Scotland's economic crown. It's an exciting and vibrant industry employing a very wide range of talented people and we are delighted to recognise the achievements of the industry's leading lights."
iomart Group plc has won a number of awards so far this year. In April it was crowned Scottish PLC of the Year and last month it was named as one of the top 20 cloud hosting companies in the world by Talkin' Cloud.
There was also success for one of iomart Group's cloud hosting customers at last night's Digital Technology Awards. Cheap flights specialist Skyscanner picked up the awards for Scottish Digital Technology Company of the Year and International growth.
-ends-
News release issued by Jane Robertson, Head of PR for iomart Group plc. For more information please email jane.robertson@iomart.com or call 0141 931 6474 (dir), 0141 931 6400 or 07827948993 (mob).
Notes for editors:
About iomart Group plc:
iomart Group plc (AIM:IOM) is one of the UK's leading providers of managed hosting and cloud computing services. From a single server through to private cloud networks, iomart specialises in the delivery and management of mission-critical hosting services, enabling customers to reduce the costs, complexity and risks associated with maintaining their own web and online applications.

By physically owning and managing its own global network infrastructure, iomart offers world-beating levels of service to its customers. The Group offers a unique 100% uptime guarantee with all hosting services being engineered to ensure no single point of failure.
iomart Group operates in its chosen markets through a number of subsidiaries: iomart Hosting, RapidSwitch, Easyspace, EQSN and Westcoastcloud. The group has been listed on the London Stock Exchange's Alternative Investment Market (AIM) since April 2000. For more information about iomart Group plc visit www.iomart.com