Platform enables Swapit to engage audience and maximise insight for marketers
London, UK and Oslo, Norway and New York, NY: 27 March 2012: Confirmit, the leading global software provider for Customer Experience, Employee Engagement and Market Research, announced that Swapit, the UK's leading online swapping and trading community for young people, recently published the third of its quarterly Youthscape Report on kids and teens, using Confirmit as the core platform for its panel, online surveys and polls.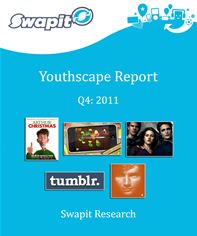 Youthscape report
The Swapit community comprises over 800,000 people between the ages of 6 and 18 who can earn virtual currency, in the form of 'swapits', for every item they swap and then spend them on a wide range of new and used items on the Swapit website. Members also earn swapits from responsible brands and organisations for completing surveys, as well as other activities. The Swapit panel, which totals over 15,000 people, provides marketing professionals with safe and secure access to a complex market segment.
The Youthscape Report launched in 2011 provides up-to-the-minute insight into the thoughts, behaviour and spending habits of UK children and teens which can be tracked to provide comparative analysis, quarter-on-quarter.
David Gregory, Research Manager at Swapit explains: "Youthscape is the most up-to-date UK study to provide insight across such a wide range of youth-related topics. The youth market is constantly evolving and our research keeps clients, such as Disney, Hasbro and the BBC, informed of the latest trends, making it easier to understand and engage with young people. This research helps our clients to improve targeting by understanding which media channels they use, make better marketing decisions based on fresh data, assist product development, and react to the latest trends as they emerge.
"We selected Confirmit as the technology foundation for Youthscape because we wanted to provide the best possible experience for our panel members. This is crucial to ensure we maximise response rates in short timeframes and ensure the highest quality data for our subscribers," he says.
Confirmit is used to collate and analyse raw data from the study, analyse results and provide the Swapit team with key highlights across all topics for inclusion in the report. Confirmit's intuitive authoring interface capabilities enable Swapit to create highly engaging surveys for a younger audience and allow the team to send surveys and polls directly to the panel.
Gregory adds: "Confirmit's panel management helps us to optimise response rates, and enables us to incrementally build a clear profile of each panellist so that high-value panellists can be easily identified but not over–used. It also provides us with easy-to-use design tools that we use to create intuitive, customisable surveys that our members are genuinely excited to take part in. This is particularly important for kids and teens as boredom can easily creep in!"
"The level of automation provided by Confirmit has streamlined the day-to-day management of the panel, leaving us free to add specific questions about a particular industry or brand to the quarterly study, or to run any number of individual polls or omnibus surveys at the same time, without worrying about efficiency, performance or scalability," he said.
Tim Hannington, Executive Vice President EMEA, Confirmit, says: "Swapit is a truly innovative company and we are delighted to be working with them to provide the right solution for the Youthscape reports. These reports are highly respected and, as Swapit continues to provide exceptional results to its clients, we are delighted that Confirmit is instrumental in delivering this valuable insight."
- ENDS -
About Swapit
Since 2001 Swapit has been the leading UK online swapping and trading community for young people. Members earn virtual currency, called 'swapits', for every item they swap and they can also earn 'swapits' from responsible brands and organisations for activities such as: visiting websites, product purchase, completing research surveys, eating healthy food at school, and much more. To find out more visit www.swapit.co.uk/about_swapit.aspx
About Confirmit
Confirmit is the world's leading SaaS vendor for multi-channel Voice of the Customer, Employee Feedback, and Market Research applications. The company has offices in Oslo (headquarters), Cologne, Guildford, London, Moscow, New York, San Francisco, Vancouver, and Yaroslavl. Confirmit's software is also distributed through partner resellers in Barcelona, Kuwait City, Madrid, Milan, Pattaya, Sydney, and Tokyo.
Confirmit targets Global 5000 companies and Market Research agencies worldwide with a wide range of software products for feedback / data collection, panel management, data processing, analysis, and reporting. Customers include British Airways, Dow Chemical, Farmers Insurance, GlaxoSmithKline, Halifax Bank of Scotland, HSBC, Ipsos, Nielsen, The NPD Group, Symantec, and Wells Fargo. Visit www.confirmit.com for more information.
Media Contacts:
David Gregory
Swapit
david.gregory@swapit.co.uk
T: 020 7268 9960
M: +44 (0) 7840 064335
Andrea Burton
Indigo River
andrea@indigo-river.co.uk
T: +44 (0)1985 850320
M: +44 (0)7796 368669
Melanie Oxford
Indigo River
mel@indigo-river.co.uk
M: +44 (0)7515 632065