The Toughbook CF-19 Mark 5 will help the mobile engineers find work locations, stay up to date with operating procedures and keep in touch with headquarters
Bracknell, UK. 14 June 2011: Electricity North West is to roll-out 220 of the latest Mark 5 Toughbook CF-19 rugged notebooks to its field engineers to further improve work efficiency. The latest Toughbooks will replace the engineers' existing Toughbook CF-18 devices, some of which are more than 10 years old. The new CF-19s will include a GPS system to help locate network cables and work locations and a 3G wireless connection, so that in future they can stay in touch with headquarters by email and keep up to date with the latest operating procedures via the company's intranet. The fully ruggedized Toughbook CF-19s will be rolled out during August 2011.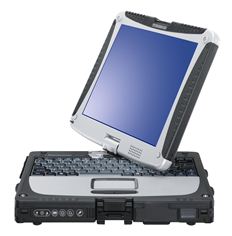 Toughbook CF-19
Electricity North West owns, operates and maintains the electricity distribution network for the north west of England from Carlisle in the north to Macclesfield in the south. The network incorporates 58,000km of cables and delivers over 24 terawatt hours of electricity annually to some 2.4 million domestic and industrial customers.
Jane Stell, CIO Communications at Electricity North West, said: "The Toughbook CF-18s have been great servants but it was time for us to upgrade them. The Toughbook CF-19 has the rugged specification, increased memory speed to cope with our large network plans, flexibility and the communications functionality that we need."
The Toughbook CF-19 is part of Panasonic's Fully Rugged range and, equipped with Intel® Core™ i5 vPro™ processor, is the ultimate in durability and reliability. A magnesium-thickened casing offers maximum protection for the most sensitive components such as the display. Hard drives are secured against impact and shock. A fall from a height of 90cm does not affect functionality in any way, and a special protective coating provides dust and water resistance.
The CF-19 is also the market-leading convertible rugged notebook, which means that the device can be used as a conventional laptop or converted to a tablet PC for easy use when in the field. The lightweight device can easily be held with one hand and the bright touchscreen LCD display is convenient to use both inside and outside in bright light conditions.
Finally, the CF-19 is built for reliable communications when in the field. The Electricity North West units contain 3G wireless communications and GPS capability giving the potential to allow engineers to keep in touch with headquarters and quickly find their next work location without having to return to base.
Paul Davidson, Corporate Sales Manager for Utilities at Panasonic Toughbook, commented: "Utility company field engineers have a difficult job often working in extreme weather conditions in remote parts of the country. We are delighted that Electricity North West has recognised the valuable contribution the latest Toughbooks can make to the working lives and productivity of its engineers."
For Toughbook CF-19 images visit: http://www.toughbook.eu/service-and-downloads/image-archive?directory=1CF-19&page=1#menu_image_archiv
About Panasonic Toughbook
Panasonic Toughbooks are designed to give mobile workers in challenging environments reliable and secure access to their data and applications. Toughbooks are designed to overcome the situations where traditional mobile PCs fail including vibration, knocks, water, dust, disinfectants, sunlight, battery life, and one-handed operation. By finally giving workers access to IT in challenging environments, business processes, productivity and customer experience can be dramatically improved. Panasonic Toughbook made its first rugged mobile PC in 1994 and today has a 65% share of the European Durable and Rugged notebook computer market (unit sales 2010, VDC Research, March 2011).
Panasonic Corporation is a worldwide leader in the development and manufacture of electronic products for a wide range of consumer, business, and industrial needs. Based in Osaka, Japan, the company recorded revenue of €67.14B for the year ended March 31, 2010. The company's shares are listed on the Tokyo, Osaka, Nagoya and New York (NYSE: PC) stock exchanges.
For further information visit www.toughbook.eu.
For further information on Electricity North West go to www.enwl.co.uk
Press contact:
Paul Smith
paul@ambergroup.net
Tel: +44 (0)7770 828525