~ New product innovation from Exterity to deliver more than IPTV (>IPTV), with an app-based AvediaServer helping organisations integrate IPTV into their business applications ~
Integrated Systems Europe, Amsterdam, 26th January 2012 - Exterity, the leading provider of IPTV communication solutions, today announces AvediaServer 4, the latest version of its multi-service platform for video storage, delivery and management. The enhanced IPTV platform will enable flexibility, new levels of control and integration for businesses looking to enhance their communications with video. Exterity will be demonstrating the new platform on its stand (11E72) at Integrated Systems Europe (ISE) in Amsterdam from 31st January – 2nd February.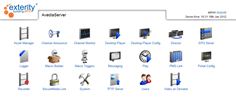 AvediaServer Main Shot
AvediaServer 4 has a new app-based interface with each app providing a specific set of features and functionality, from control of Video on-Demand (VoD) to encrypted content for secure delivery. Users will be able to easily add new apps, and therefore functionality, as they become available, ensuring the solution is future proof and able to deliver more than IPTV (>IPTV).
Core technology advances within the platform provide the >IPTV base. These include developments within the API based architecture, allowing integration and control of services from 3rd party devices and applications. This advanced level of customisation and integration gives enterprises the ability to offer bespoke services tailored to the specific needs of their organisation, for example: integration with room control systems, information and alarm systems, or hotel property management systems (PMS).
Further development of the triggers and Marcos functionality allows intricate or mundane tasks to be automated, where one click on a web interface, a physical button press or a command from 3rd party technology will activate a series of instructions within AvediaServer. These instructions range from simple channel changes to a complex set of actions affecting multiple screens and activities. Macro functions can be used to ensure complex and time consuming instructions are carried out accurately and quickly. Stadium or transport hubs are fantastic example of this, where multiple screens on large sites need changed quickly. A simple web page containing a series of buttons could trigger different messages on screens depending on the event – a goal being scored, a security message or advertising. Equally, channel changes and other tasks can be activated site-wide using a single click from a webpage without the need to directly access the server.
"The new server represents a significant step forward by giving companies the flexibility of a solution that will work off the shelf as well as something they can make truly bespoke if required," said Colin Farquhar, CEO at Exterity. "As always, it allows companies to share video in an efficient and controlled way, enhancing both staff and customer communications. Thanks to the new AvediaServer 4 system architecture, an exciting new level of integration is now possible that offers more than just IPTV."
Exterity's IPTV solutions help organisations use their existing building, campus, or wide-area IP network to harness the power of TV and video to engage staff and customers. AV over IP enables the same network that furnishes access to business applications (email, internet or IP phone services) to also supply an unlimited number of users with TV from all over the world, executive and training presentations, video on-demand, and digital signage. It enables organisations to utilise existing TVs, AV displays and even personal computers for TV and video delivery while supporting digital switchover and ever-higher picture quality and resolution.
-ends-
For more information, please contact:
Emma Bridgeman / Sally Brown
Rocket Communications
+44 (0)8453 707 024
exterity@rocketcomms.net
About Exterity
Exterity Limited, the building IPTV specialist, has been delivering enterprise-class building IPTV solutions since 2001, and today its products are in use in 40 countries by some of the world's best-known corporations. Exterity products enable organisation's to distribute broadcast-quality digital TV and video over building or campus IP networks (LANs) to a virtually unlimited number of users, with centralised management, configuration, and control. Unlike traditional analogue systems, Exterity systems can support an unlimited number of channels, and picture quality is unaffected by the addition of displays or users. Based on industry standards, Exterity products integrate easily with other solutions such as digital signage, hotel property management systems, patient information systems, and others. Exterity is based in Edinburgh, Scotland.