Hartley Wintney, UK, June 11th 2012 - Increasing demand for Getmapping data services has led to a move to a new data centre. The award winning 4D Data Centre not only supports greater performance but also has better green credentials. The latter has become an increasing concern for businesses and other organisations using online services, applications and data. As well as its own extensive aerial photography archive Getmapping hosts its own internet mapping applications and a complete range of Ordnance Survey professional mapping products together with the latest OS OpenData™.
4D recently won 'Green Datacentre Project of the Year' at the recent Data Centre Solutions Awards for its deployment of new EcoCooling units in its Surrey data centre. All data centres require cooling to prevent servers from overheating and most use traditional air conditioning technology which although very effective is not so eco-friendly. The cooling technology at 4D Surrey draws warm ambient air through a wetted filter which in turn causes some of the water to evaporate and cool the air down. This in turn cools the servers. So it's a completely natural way of producing refreshing cool air at exactly the right temperature and with a much reduced carbon footprint. Systems like this have recently been introduced in companies like Google and Facebook, however 4D is one of the first to deploy this technology in the UK.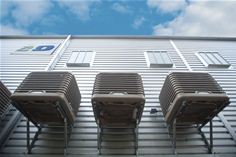 4D Data Centre
Running a data centre is not just about cooling servers, it is also about 'Power Usage Effectiveness' (PUE). PUE is calculated by dividing the total amount of power consumed by that which is consumed by the IT equipment in contrast to cooling and other overheads. An ideal PUE ratio would be 1.0 with the average quoted by a 2011 survey of 500 data centres as 1.8. 4D's Surrey data centre has a PUE ratio of 1.146, making it one of the greenest not only in the UK, but in the world.
"We have been hosting large datasets for over ten years now and as more of our business goes online the question of our environmental credentials has become increasingly important," said Gavin Sullivan, Getmapping's Technical Director. "By selecting 4D we have not only increased the bandwidth available to our customers but also made positive decisions regarding our eco credentials which means that we continue to have one of the best offerings available. Now customers can download aerial photography, use our WMS services or web applications secure in the knowledge that the service we provide will be high performing, secure and 'green'," continued Sullivan.
-end-
About Getmapping Plc
Getmapping Plc is a leading provider of aerial photography, digital mapping and web based services. With offices in Hartley Wintney, Hampshire and Cape Town, South Africa, Getmapping was the first company to have up to date nationwide coverage of Britain and pioneered online delivery of aerial photography to business and the public at large. A reseller of professional mapping, oblique photography, height data, OS maps and third party aerial photography, Getmapping services a wide variety of markets including press and media, local authorities, property and construction, environmental consultants and the public. It also provides a number of value added mapping products and services tailored to specific client needs including data hosting, online data delivery and web-based GIS. A pioneer of many online products through its website, Getmapping is the only company currently re-flying the whole of the UK at enhanced 12.5cm resolution.
For further information please contact: Pete Bonham
T: +44(0) 1252 849423 E: peter.bonham@getmapping.com