Leading outdoor retailer, Hi-Tec is appealing for those attending the 2012 Isle of Wight Walking Festival this month to boost its online inspiring walks image gallery by submitting beautiful photos of the island.
Since the launch of the image wall in April 2010, Hi-Tec customers have uploaded almost 500 stunning shots of the British countryside, from Cornwall to Caerphilly. But despite the Isle of Wight being one of the UK's most beautiful counties and home to some amazing walking routes, there are still no photographs taken from the island in the gallery.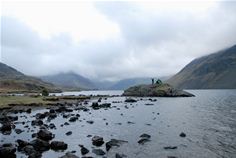 Setting up camp by James Carnegie
Hi-Tec hopes that this will change when the Festival launches on the 5th May. Approximately 20,000 people are expected to descend on the Isle to take part in more than 200 organised walks, with more unusual events including speed dating walks and fossil hunting, over one fortnight.
Anyone who submits a photo will automatically be entered into the 'Inspire Me' competition, with a monthly winner being awarded a pair of Hi-Tec walking boots for the next year. The twelve monthly winners will then battle it out for the chance to win a HF Holidays walking holiday.
Past submissions have captured beautiful sunrises and sunsets, snow-covered scenes, beaches, meadows and more. Prize-winners have included James Carnegie who shot 'Setting up Camp' and Bob Small who entered his photo, 'Sunrise at Hay Tor'.
Helen Durant, UK Marketing Manager at Hi-Tec, said; "We have a really impressive selection of images on-site now, but we'd love to add to that with some shots from the Isle of Wight.
"We know it's a top walking destination with stunning scenery, from the Needles to Bouldnor Forest and the beautiful rivers and beaches in between, so I look forward to seeing some more inspiring photographs."
To view the photos currently in the gallery or to submit a photo, visit www.hi-tec.com/inspiring-uk-walks/.
-ENDS-
Notes to editors:
'Inspire Me' is a nationwide photography competition aimed at finding the nation's best walking, hiking and outdoor images.
Entries can be of anything at all related to the outdoors - whether it's an idyllic mountain top, favourite route or just a photograph that means something special and that has inspired those entering.
Each month a winner will be announced, as chosen by a select Hi-Tec judging panel, and will win a top of the range pair of Hi-Tec walking boots. In April 2013, all 12 monthly winning photographs will go head to head - with Hi-Tec's Facebook fan-base choosing an ultimate winner for the year. The ultimate winner will win a fantastic HF Holiday family walking holiday worth over £1000.
Entrants just need to visit www.hi-tec.com/uk/ to upload their image and all entries will appear on the Hi-Tec website and Facebook page. There is no limit to the number of entries that can be submitted.
Competition terms and conditions are available here: www.hi-tec.com/inspiring-uk-walks/locker-room/add-image/
For more information contact:
Sophie Coley at Sophie@propellernet.co.uk or 01273 760969