Finnish music service joins forces with big music industry players in the UK
LiveMusicStage, an online music service with Finnish origins, is announcing a new UK partnership with Glasgow based Stow College and their Electric Honey record label. They will start streaming exclusive live gigs from the school studios, with folk-blues sextet Woodenbox taking the first spot on September 6th. The student-run label has an illustrious history of artists spanning 20 years, including Belle & Sebastian, Biffy Clyro and Snow Patrol.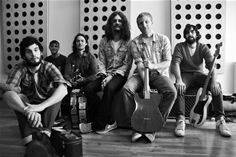 Woodenbox
"This exciting new technology platform allows Scottish bands to reach out internationally. It is also a perfect opportunity to display the talents and resources of the students and businesses working with Digital Enterprise Glasgow at Stow College," says Alan Cunningham from Glasgow City Council.
Earlier this month LiveMusicStage announced another big UK partnership with Metropolis Group and PRS for Music. Together they are launching a series of live streams from the Power Down music industry showcases, kicking off with four gigs on September 4th. These shows can be watched live at www.livemusicstage.com/metropolis.
The free stream from the Woodenbox gig will start at 7pm on September 6th. To watch it, you should log in at www.livemusicstage.com/electric-honey. The event sponsored by the Glasgow City Council and promoted by AV9, a digital music and media company also based in Scotland.
LiveMusicStage is an online venue where the audience can often interact with the bands while watching high quality live streams. For venues, festivals and other event organizers it's a platform for broadcasting and monetizing their gigs and concerts.
More information:
Antti Eronen
CEO, LiveMusicStage
+358 50 353 6789
antti.eronen@livemusicstage.com
Mailing address:
Jenkatehdas Oy
Hämeentie 133
00560 Helsinki
Finland
Press pics:
www.livemusicstage.com/press
On the web:
www.livemusicstage.com/electric-honey
http://www.facebook.com/electrichoneymusic
http://www.youtube.com/watch?v=zhj2BgivT2M
www.wdnbx.com
www.livemusicstage.com/metropolis
metropolis-group.co.uk
www.prsformusic.com
Twitter: @LiveMusicStage
Facebook: facebook.com/LiveMusicStage