Free 45-day trial of the full version of EFI PrintMe Mobile enterprise mobile printing software available for download now
Manchester, UK – 7 August 2012 – M2, Europe's leading independent managed print IT services company, has today announced it is the primary UK reseller for EFI PrintMe Mobile, the only enterprise software solution that enables direct Wi-Fi printing for iPads, iPhones and Android devices, from within the application, to all networked printers regardless of brand.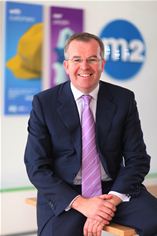 John Taylor
End-users can now benefit from the flexibility of printing from their tablet or phones anytime, whether they are in a conference room, utilizing shared office space or in another building on the company site. PrintMe Mobile provides the platform to print documents, presentations, reports and more when and wherever they need them.
PrintMe Mobile benefits include:
Ease of use — prints without the need to open an application

No app needed for iOS devices

Integrates with print management applications like Equitrac

Provides secure, inside the firewall solution

Works across multiple subnets

Provides option to print via email for any device, including Blackberry

Includes option for secure pull printing/follow me printing
"PrintMe Mobile leverages more than a decade of mobile printing innovation to provide a solution that enterprise customers need today. We are removing the barriers to mobile printing, and letting users print when they want to from whatever device they have," said John Henze, vice president of Fiery marketing for EFI. "Working with M2 allows EFI to introduce PrintMe Mobile to the UK market and partner with one of Europe's leading independent managed print service providers. With innovative solution offerings like PrintMe Mobile, M2 continues their pioneering service excellence across the MPS sector."
Mobile printing is definitely a growing area. In a recent study amongst 125 organisations, almost a quarter of respondents are actively investigating mobile printing, with just 5% having already deployed it. This is representative of a market ready for growth.
"We have already had a lot of interest in this technology with existing clients," said John Taylor, CEO of M2. "Numerous law firms have already installed PrintMe Mobile to improve the productivity of their employees using iPads, and corporations are using PrintMe Mobile to enable employees and guests to print from their mobile phones or tablets when away from their primary work location."
"One innovative feature of PrintMe Mobile is its ability to integrate with job accounting software like Equitrac," said Taylor. "Companies are discovering the standard AirPrint™ print job is anonymous and does not provide a way to track who printed it. With PrintMe Mobile's ability to provide information to job accounting software, IT departments can now tie mobile printing jobs to the specific users generating the printouts. This enables companies to properly account for print activity as a way to reduce overall consumables."
To explore the benefits of mobile printing, M2 is offering a 45 day free trial for organisations to try before buying. Download the free trial at http://www.m2.uk.com/printme-mobile.html and start printing from your mobile in as little as 20 minutes.
For more information and product features of EFI PrintMe Mobile visit http://www.m2.uk.com/printme-mobile.html
About M2
M2 is Europe's leading Independent managed print IT services company. Offering a proactively managed ranged of office print strategies, infrastructures and document processes, M2 helps organisations' reduce office print costs, waste and risk. Through an audit and assessment process, M2 provides organisations' with a customised best practice solution that benefits from the company's vendor agnostic approach. The company's professional account management teams helps secure sustained benefits and provides a continuous improvement programme.
M2 operates the four leading hardware brands including Xerox, HP, Canon & Ricoh, as well as the leading software providers such as Equitrac, Safecom and Uniflow. M2 provides all its own expert resources including engineering break-fix services to IT consultancy and support services. M2 provides a national UK service and specialises in the mid to large corporate market. Customers include Atkins, LSBU, Kings, Manchester Airport, Moorcrofts, Westwood College and Shoosmiths. For more information visit
www.m2.uk.com
About EFI
EFI™ (NASDAQ: EFII) is a worldwide provider of products, technology and services leading the transformation of analog to digital imaging. Based in Silicon Valley, with offices around the globe, the company's powerful integrated product portfolio includes digital front-end servers; superwide, wide-format, label and ceramic inkjet presses and inks; production workflow, web to print, and business automation software; and office, enterprise and mobile cloud solutions. These products allow users to produce, communicate and share information in an easy and effective way, and enable businesses to increase their profits, productivity, and efficiency.
www.efi.com
Contact
Natalie Sutton/Kimberley Gray
M2@ProudPR.com
T: (0)1276 679570
M: +44 (0) 7768 026197 or +44 (0) 7884 405835