- Myriad adds new offices to support rapid growth in Asia, Middle East and North Africa and Latin America
- Expansion enables Myriad to scale and locally support growing customer base in key regions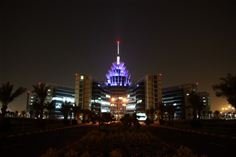 DSO at Night
ZURICH, Switzerland – August 23, 2011 – Myriad Group AG (SIX: MYRN), a global leader in mobile technology having shipped over 3.8 billion software applications on more than 2.2 billion phones, today announces it is expanding its global presence with new offices opening in India, Mexico and Dubai.
The three new locations are part of a broader global expansion effort which adds to Myriad's extensive global presence, with offices in Switzerland, UK, France, China, Japan, South Korea, Taiwan, Australia and the US. As a result of the expansion, Myriad will be better positioned to scale and support its existing and new customers' growing needs.
In Mexico, the recently opened Myriad office is supporting the company's five-year exclusive partnership with Telefónica, delivering social networking to over 140 million customers in 13 countries. The new offices in Dubai and India will set out to capitalize on the ever-increasing demand for key mobile software and services, as well as supporting existing regional and global customers.
"Our new offices will not only enable us to meet and capitalize on growing demand, it will also allow us to better serve our customers in these rapidly growing markets," said Simon Wilkinson, CEO of Myriad Group. "The increase in our global footprint underlines our commitment to both our customers and our desire to be at the forefront of partnership-led innovation in these regions."
About Myriad Group
Myriad Group AG is a global leader in mobile technology and has shipped over 3.8 billion software applications in more than 2.2 billion mobile phones. Its comprehensive portfolio includes browsers, messaging, Java, social networking, user interfaces and middleware for all types of mobile phones, from ultra‐low cost handsets to advanced smartphones.
The company provides both individual components and complete solutions, which enable handset manufacturers and operators to deliver amazing experiences on mobile phones. Myriad also develops USSD‐based customer self‐care platforms that deliver over 10 billion messages a year to 220 million mobile users across more than 35 mobile operators worldwide.
Myriad was created from the combination of industry leading companies, Esmertec and Purple Labs. It operates worldwide, with offices in Switzerland, France, UK, USA, Mexico, China, South Korea, Taiwan, Japan and Australia. Headquartered in Zürich Switzerland, Myriad is listed on the SIX Swiss Exchange (SIX Symbol: MYRN).
For more information:
www.myriadgroup.com
www.youtube.com/myriadgroupmarketing
www.twitter.com/myriadgroup
Myriad Media Contacts
Kate Hamilton/Jaime Tero
Tel: +1 415 989 9803
Tel: +44 208 322 1922
Email: myriad@onechocolatecomms.com
India Office
Myriad Group AG
1003-B, 10th Floor, Park Centra, Sector-30, Gurgaon-122001, Haryana, India
Tel: +918800677997
UAE Office
Myriad Group AG
A-108/2, Dubai Silicon Oasis HQ Building, P. O. Box 341236, Dubai, UAE.
Tel: +971 4 371 2538
m: +971 5555 33406 and +971 5055 20195
Mexico Office
Myriad Group AG
Protasio Tagle #104
Colonia San Miguel Chapultepec
11580, Ciudad de México
Distrito Federal, Mexico
Tel: +52 55 52 73 31 52