Volkswagen Commercial Vehicles is officially launching the new Caddy panel van and MPV range from today with a comprehensive advertising campaign using the strapline 'Brilliant Made Better'. This theme is creatively brought to life by advertisements featuring a factory production robot placing a cherry on top of the Caddy.
The new Caddy, which is now arriving in Volkswagen Van Centre showrooms, has its own microsite, www.brilliantmadebetter.co.uk and includes an interactive guide to the vehicle as well as an online game. Later this month the new Caddy will also feature in new ident adverts on the Discovery network's survival and adventure programming.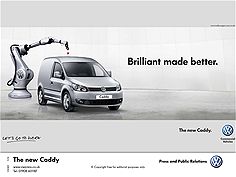 Volkswagen presents the new Caddy panel van
'The Caddy is one of our best-selling model ranges in the UK, and we needed to promote all the ways in which the new Caddy is even better than last one, while also demonstrating very clearly that at Volkswagen we always strive for excellence,' said David George, Head of Marketing, Volkswagen Commercial Vehicles.
'We're also pleased that the launch campaign uses the Volkswagen style of being clear and concise with a simple but humorous twist,' he continued.
The launch of the new Caddy coincides with the introduction of exciting, new and more informative magazine-style brochures from Volkswagen Commercial Vehicles designed to be colourful and easy to read, but most importantly which work as a practical guide to every model in the range. For the first time ever these include customer interviews as well.
The new brochures have full details of the new Caddy range and are now available from Volkswagen Van Centres. Alternatively, they can be ordered online at www.volkswagen-vans.co.uk or by calling 0800 717131.
(ends)
About Volkswagen Commercial Vehicles
Volkswagen Commercial Vehicles is a provider of high quality new and used vans. Our award-winning range includes: the iconic VW Transporter, the California, the Crafter, the Caravelle, the Caddy and Caddy Maxi.
Vans for sale such as used California, used Transporter and used Caravelle models can be found through our network of Volkswagen UK Van Centres.
Our network of UK van rental centres offers VW van hire services to cover a range of requirements from moving house, to keeping your business on the move.
For more information, please visit www.volkswagenpressoffice.co.uk or contact John Rawlings, Press and Public Relations Manager, Volkswagen Commercial Vehicles on 01908 601478, 07872 379544 or john.rawlings@vwcv.co.uk