An independent price comparison website is helping cash-strapped consumers to de-clutter their homes after their festive splurges.
The recently launched mobile phone price comparison site, sellmyoldmobilephone.co.uk, is encouraging people to trade in their unwanted phones in return for cash.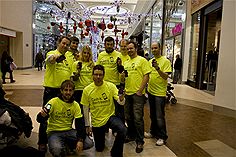 The sellmyoldmobilephone.co.uk team
With Christmas just behind us, many of us across the UK will have unwrapped new smart phones such as the iPhone 4 and discarded our older models. In fact, a survey by financial group ING Direct predicted that despite the recession, Britons on average will have spent £490 each on Christmas presents in 2010.
Such Christmas spending habits mean that we could all benefit from a bit of extra money in January, which is why Sellmyoldmobilephone.co.uk offers customers the best deals for their old phones. The site compares prices from 23 leading mobile phone recycling companies such as Envirofone and Cash4phones, and it aims to become the most comprehensive mobile phone comparison site in the UK. The site even offers a unique historic tracking device that allows consumers to see how much they would have received for their phone weeks earlier. Prices are updated daily and customers can make up to £180 for their old phones.
To trade in, visitors simply look up the make of their mobile, select the best deal, freepost their phone and then receive their cash.
The recycled phones are then stripped for useful metals and plastics and donated to charities. Many recycled phones end up in India, Africa and China, providing people in rural areas with a vital communication link.
Sellmyoldmobilephone.co.uk has been set up by Edward Robertson Ltd, a web development company based in the North East of England.
Graham Miller, director of Edward Robertson, said: "The New Year probably meant a new phone for many in the UK and we really want to help consumers to make money from their unwanted phones. Instead of letting old mobile phones gather dust in drawers, we are encouraging people to get the best deals on their phone whilst helping the environment."
Edward Robertson has previously launched its online shopping directory shopsafe.co.uk, providing customers with a database of over 4,000 retailers.
Edward Robertson Limited, 1 Bondgate, Darlington, County Durham, DL3 7JA. Tel: 01325 489.
-ends-
For media enquiries please contact Helen Saville on 0191 231 4985 or Helen@uniquethinking.co.uk