Independent Article from Spend Matters Calls Out Seal Contract Discovery as a "Solution That Every Company Needs"
London, UK – 23rd May 2012 – Seal Software Group, a provider of solutions to discover, capture, extract and manage contracts, today announced that Principal Analyst, Thomas Kase of Spend Matters has published a two part article on Seal's Contract Discovery solution, which outlines Seal's unique approach to speeding up and reducing the cost of Contract Discovery and Abstraction.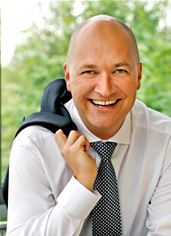 Ulf Zetterberg, Founder and CEO, Seal Software Group
Spend Matters is the world's most trafficked online source of information around supply management and procurement, bringing practitioners and solution & service providers together.
In his article, Kase states, "[Seal is] a revolutionary way to really understand what is in contracts - either your own, or those of an M&A prospect. It's not about the standard elements of contract management (even though in this case, the vendor in question has those as well: authoring, clause libraries, repository, milestones, requests, alerts, dashboards, compliance, etc.). No, it's about something just as - if not more - tangibly valuable, an approach to contract management that can likely deliver greater ROI and faster than any other solution in this area."
Seal's contract centric solutions are built on experience and input from numerous implementations, spanning many industries across four continents and are capable of addressing the full contract lifecycle needs of a wide range of organisations.
Seal has many use cases, M&A being just one. With the ability to discover, abstract and then manage the lifecycle of contracts, the potential applications are many. A common shortcoming with CM, CRM and many P2P installations is that they are not capable of automatically importing and tracking necessary KPIs and clauses. Kase continues, "I'm just excited to see such a disruptive tool that fits so nicely into the solutions portfolio of just about any firm out there. I can't think of a reason not to use Seal since everybody above some size does M&A, and this solution lets you rapidly get a grip on all contracts in place even before an LOI or definitive agreement is signed (e.g., searching a potential acquisition targets contracts to reduce risks by understanding change of control, non-exclusivity clauses, rights of first refusal, limitations of liability, indemnification and many other fields)."
Ulf Zetterberg, Founder and CEO, Seal Software Group said, "We believe that Seal is unique in the market today in its ability to locate and abstract contract metadata, in an automated fashion, reducing the time and costs normally associated with such processes. Thomas Kase has recognised our unique, effective and economic solution to a growing problem for organisations the world over."
Zetterberg continued, "Our recent announcement of expansion fuelled by record growth is testament to the demand we're seeing in the market for the types of solutions that Thomas Kase speaks of. We're witnessing a quiet revolution in the area of contract automation that is enabling organisations to truly gain control of their contract landscape." For the full announcement, click here.
Parts 1 and 2 of Kase's article can be read in full at the following links:
http://www.spendmatters.com/index.cfm/2012/5/15/Seal-Softwares-Discovery--a-Disruptive-Approach-to-Contract-Visibility--Management-Part-1

http://www.spendmatters.com/index.cfm/2012/5/17/Seal-Softwares-Discovery--a-Disruptive-Approach-to-Contract-Visibility--Management-Part-2
About Seal Software Group
Seal Software Group provides solutions to discover, capture, extract, create and manage contracts. Seal's unique combination of Contract Discovery (cDiscovery) and Contract Lifecycle Management (CLM) provides insight, lifecycle management and reporting for law firms, General Counsel, Legal Process Outsourcing (LPO) and eDiscovery vendors.
Seal's cDiscovery automatically discovers existing contractual documents, extracting key information from any file type. Applicable in contract abstraction, due diligence and procurement environments, Seal can identify and process thousands of documents per day, reducing the time and cost of discovery, due diligence and contract abstraction.
Seal's Dolphin CLM for SharePoint manages contracts in a secure repository, from creation to ongoing proactive management of contract performance.
Seal's solutions help organisations in verticals such as legal services, financial services, oil and gas, high-tech, pharmaceutical, media, manufacturing, transportation, and telecommunications achieve control of their contracts and obligations for compliance, cost saving and competitive advantage.
For further information, visit the Seal Software Group website: www.seal-software.com
Media Contact:
Ulf Zetterberg, Seal Software Group
+44 1344 988 450
ulf.zetterberg@seal-software.com
www.seal-software.com