Pink-shirted staff of café brand Soup-urb hit the streets of Brighton with tasting samples ahead of new branch opening
Delicious and nutritious…these are the watchwords of healthy fresh food café Soup-urb, now launching in Brighton as the second outlet for this venture from catering visionary Claire Wood and serial entrepreneur Yolanda Noble.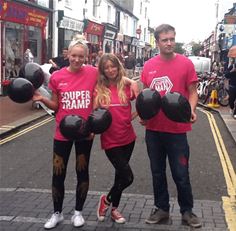 Soup-urb's staff on the streets of Brighton
Soup-urb, already a favourite eatery for a devoted clientele in Royal Tunbridge Wells, opens for business in Brighton's North Lanes at 87-88 Trafalgar Street on 20th August 2012 (on the site of former popular venue Café Nia).
From Tuesday 14th of August, look out for Soup-urb staff who will be roaming Brighton with tasty samples of the café's mouth-watering dishes for customers to try. They are easily spotted in their bright pink t-shirts emblazoned with titles such as Souper Tramp and Souper Man.
Soup-urb has proved extremely popular with customers not only because it stimulates the taste buds, but also because it pays attention to its customers' health through nutritional values, fresh local ingredients, additive avoidance and on-site preparation, all at great prices. Delicious, nutritious Soup-urb is eagerly anticipating looking after its new customers in Brighton.