Research Report Findings Published in the Parenteral Drug Association Journal Demonstrate that RFID can be Instrumental as ePedigree Laws are Enacted
Reading, UK July 25, 2012 – Intelleflex, a leading provider of on-demand data visibility solutions for supply chains and asset tracking, supports the findings of a study published by the Parenteral Drug Association (PDA) that RFID technology is both safe and suitable for use in the presence of biologics. The study, "Effects of Radio Frequency Identification-related Radiation on In Vitro Biologics," was conducted by researchers at The University of South Florida, Blood Center of Wisconsin, Abbott, Georgia Institute of Technology and the Madison RFID Lab at the University of Wisconsin and was published in the July-August edition of the PDA Journal of Pharmaceutical Science and Technology.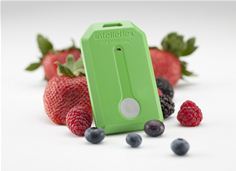 Intelleflex tag
The report noted that RFID-based equipment could be used safely in close proximity to biologics, making the technology suitable for "track and trace" operations. The research showed that in vitro test results for more than 100 biopharmaceutical products from eight major drug companies demonstrated no non-thermal effect by radio frequency radiation.
The findings come in advance of forthcoming requirements mandated by ePedigree laws in California and Florida, which are expected to go into effect in 2015 and ultimately impact the entire pharmaceutical industry. Compliance with such laws will require a combination of RFID and 2D barcode technologies for monitoring the condition, authenticity and traceability of pharmaceuticals, including biologics. Temperature-monitoring RFID technology is critical to an accurate assessment of the condition of biologics, such as vaccines, medications and therapeutics, which are typically highly temperature sensitive and require constant monitoring to verify adherence to distribution protocols that ensure safety, quality and efficacy.
"We're pleased that the results of this study prove that RFID technology is inherently safe when used with biologics," said Peter Mehring, President and CEO of Intelleflex. "By using RFID for package-level temperature monitoring, producers of biologics can not only take preventive action to safeguard their products during shipping, warehousing, and delivery, but can also maintain end-to-end traceability of those products to address pending ePedigree and serialization requirements, all helping to ensure patient safety."
To obtain a copy of the PDA article, visit http://journal.pda.org/content/66/4.toc. The report is available free to PDA members and available to non-members for a nominal fee.
About Intelleflex
Intelleflex® provides on-demand data visibility solutions for cold chain and asset management. Its industry-leading XC3 Technology™ RFID products enable a range of solutions for fresh produce, perishable food, and pharmaceutical temperature monitoring, asset tracking, personnel monitoring, retail, healthcare and other applications. These real-time monitoring solutions can help organizations reduce shrink or loss, more closely track and manage assets, reduce cost of operations, and increase profitability. For more information, visit www.intelleflex.com.
# # #
Intelleflex is a registered trademark, and XC3 Technology and ZEST Data Services are trademarks of Intelleflex. All other trademarked names in this document are the properties of their respective owners.
Editorial Contacts
Paul Scanlon
Jargon PR
01189 73 93 70
Paul.Scanlon@JargonPR.com