Volkswagen Commercial Vehicles is supporting Bryony Shaw, the Team GB Olympic windsurfer, as she goes for gold at the 2012 Olympics in London. Bryony, who won a bronze medal in the Beijing Olympics 2008, has been provided with a new Volkswagen Transporter Kombi to carry all her equipment as she competes at championships across Europe in preparation for 2012.
Bryony is Britain's number one female windsurfer and second in the RS:X world rankings. She has recently won silver in the 2010 World Cup Series and a proven medal winner over the last four years at the Weymouth World Cup event, which as the 2012 Olympic venue means she will be sailing on her home waters!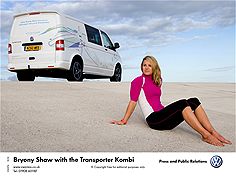 Bryony Shaw and the Volkswagen Transporter
'This is the perfect vehicle for my lifestyle and an extremely valuable tool in my bid for gold in 2012. The Transporter is great to drive, really comfortable over the long distances I have to travel, and has plenty of space to carry all my equipment – plus it looks cool,' said Bryony.
The Volkswagen Transporter has evolved during its 60 years of production to become the most popular and iconic van used by surfers and windsurfers, and in the tradition of surfer vans, Bryony's has been customised with a roof spoiler, alloy wheels, tinted glass and bespoke, colourful graphics featuring her sport.
Her van is also fitted with a towbar, as she often needs to tow equipment, including a rib, and as it is a Kombi, it also has the added versatility of a second row of seats which fold forward to create a longer load length when needed.
David George, Head of Marketing for Volkswagen Commercial Vehicles said: 'We are delighted to be able to support Bryony as she strives to achieve her target of gold in 2012. Bryony is a great ambassador because she's so passionate about our brand, and just like many of our customers, uses the van to carry the tools of her trade.'
Follow Bryony Shaw's journey at www.volkswagen-vans.co.uk/bryonyshaw. For more details of the Volkswagen Transporter range, visit www.volkswagen-vans.co.uk or call 0800 717131.
(ends)
About Volkswagen Commercial Vehicles
Volkswagen Commercial Vehicles is a provider of high quality new and used vans. Our award-winning range includes: the iconic VW Transporter, the California, the Crafter, the Caravelle, the Caddy and Caddy Maxi.
Vans for sale such as used California, used Transporter and used Caravelle models can be found through our network of Volkswagen UK Van Centres.
Our network of UK van rental centres offers VW van hire services to cover a range of requirements from moving house, to keeping your business on the move.
For more information, please visit www.volkswagenpressoffice.co.uk or contact John Rawlings, Press and Public Relations Manager, Volkswagen Commercial Vehicles on 01908 601478, 07872 379544 or john.rawlings@vwcv.co.uk