Woking, Surrey: 30th April, 2012 - Wick Hill has made the shortlist for three of the categories in the first CRN Sales and Marketing Awards event -
* Best Sales and Marketing Support Team
* Best Channel Education/Training
* Marketer of the Year (Barry Mattacott, Wick Hill Marketing Director)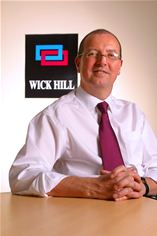 Ian Kilpatrick, chairman Wick Hill Group
Ian Kilpatrick, chairman of Wick Hill Group, commented: "It's great that CRN has introduced awards for the sales and marketing teams in the channel. These teams are adding value for the channel, working with resellers and vendors to develop sales and grow businesses. This is a great way to recognise their efforts.
"It shows the quality of our own sales and marketing team that we've been nominated in all the three award categories we entered, often in competition with distributors much larger than ourselves."
Barry Mattacott, Wick Hill's marketing director, said: "I'm very pleased and flattered to be in the final three left in the award for Marketer of the Year. It's satisfying to know that our vendors and resellers have supported me, and also rewarding to be recognised by peers in the channel."
Against a background of continuing recession, Wick Hill sales increased by over 14% over the last year, facilitated by the efforts of the sales and marketing team. The company carried out a very active sales and marketing programme that included a strong investment in videos, highly effective telemarketing, frequent and popular sales call out days, and syndicated microsites, branded for resellers.
Comments from resellers included: "…have found their sales and marketing support to be first class"; "…helped us generate sales leads through their own and joint marketing campaigns", "…an absolute pleasure to work with"; "…diligent, proactive and enthusiastic."
The results of the Awards will be announced at the awards ceremony on 21st June 2012 at the Royal Garden Hotel, London.
About Wick Hill
Established in 1976, value added distributor Wick Hill specialises in secure IP infrastructure solutions and convergence. The company sources and delivers best-of-breed, easy-to-use solutions through its channel partners, with a portfolio that covers security, performance, access, networking, convergence and hosted solutions.
Wick Hill is part of the Wick Hill Group, based in Woking, Surrey with sister offices in Hamburg. Wick Hill is particularly focused on providing a wide range of value added support for its channel partners. This includes a strong lead generation and conversion programme, technical and consultancy support for reseller partners in every stage of the sales process, and extensive training facilities.
ENDS
For further press information, please contact Annabelle Brown on 01326 318212, email pr@wickhill.com. For reader queries, contact Wick Hill on 01483 227600. Web www.wickhill.com