Former BBC Governor and Senior IMG Exec Bring Wealth of Local and International Experience to New Media Company
Horse & Country TV ("H&C TV" or the "Company"), the world's largest digital channel devoted to horse sports and country activities (www.horseandcountry.tv and SKY channel 280), announces the appointment of Sir Roger Jones and Mark Young as Non-Executive Directors to the Board.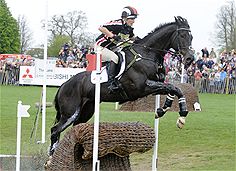 Zara Phillips
Sir Roger, a successful business entrepreneur and Chairman of the Committee for Wales of the National Trust, is a former Governor of the BBC and former Chairman of Welsh Development Agency. He is also a past Chairman of the Institute of Directors Wales, and a former member of the Board of the S4C Authority (the fourth channel in Wales). Sir Roger is the Pro-Chancellor and holds the Chair of Council at Swansea University. He was awarded an OBE in 1996 for his services to the pharmaceutical industry and was knighted in the 2005 New Year Honours list.
Commenting on his appointment, Sir Roger said: "H&C TV is a leading light in the trend towards "relevance media", and I am delighted to help the Company get established in Wales, where I have long been involved with supporting the creative industries."
Mark Young is Senior Vice President of Entertainment Sales and Acquisitions at IMG. Mark was previously Managing Director Global TV sales at BBC Worldwide, where he was responsible for BBC Worldwide's entire global TV activities, as well as the international exploitation of the company's ancillary business across book, video and magazine publishing, merchandising and new media.
"H&C TV addresses an audience that exists in very similar form in most developed markets around the world," said Mark. "I believe H&C TV has a huge opportunity to leverage its market position to create the world's leading horse sport and media player."
Heather Killen, Chairman of H&C, said: "Both Roger and Mark bring brilliant skills sets and vast experience to the Company. In the context of our move to Wales, where we have recently secured a grant from the Welsh National Assembly, and also in the context of our international development plans, they are terrific additions to our team."
ends
Enquiries:
Horse & Country TV press officer
T: + 44 (0) 208 980 3545
Dominic Barretto (Yellow Jersey PR)
www.horseandcountry.tv
About H&C TV
Horse & Country TV (H&C TV) lives on-air and online and provides exclusive event coverage, format-driven and personality-led programming, views and other features to a passionate and under-served audience base. Viewers can access hours of digital video footage, covering previously featured shows including the National Dressage Championships, the London International Horse Show at Olympia 2009, the Veuve Cliquot World Cup, and the World Dressage Masters. As well as horse sports, H&C TV broadcasts related programmes focused on other country sports, food and lifestyle.
Online, H&C TV runs blogs and commentary provided by a range of experts and personalities including Olympian, Sharon Hunt, ranked among the top 50 event riders in the world, and Jose L Souto, one of the UK's premier game chefs.
H&C TV carries one of the strongest management teams in today's digital media space, including Heather Killen, former SVP, International Operations at Yahoo! Inc, and former non-executive director at ITV plc, the Company's Chairman. H&C TV has a 25,000 strong Facebook following and lives online at www.horeseandcountry.tv and on-air on SKY channel 280.