• Zone to form hub for heightened focus on connected consumer devices and their impact on content creation, management and delivery

(London – 22 February 2010) The demand for IPTV has shown explosive growth over the last 12 months. Recent research by MRG, Inc predicts that the number of IPTV subscribers worldwide will continue to grow at 31% per year to reach 83 million by 2013, creating a $38 billion marketplace for services alone.
This revolution in the delivery of broadcast content is creating vast opportunities for application developers, content providers and technology companies alike. The IBC2010 IPTV Zone will bring together many organisations and technologies emerging as major forces in this new market and provide the opportunity for them to showcase their capabilities at the heart of the broadcast industry's leading international conference and exhibition.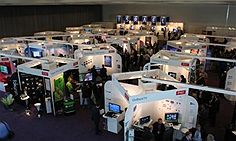 IBC2009
Now in its fourth year, the IBC2010 IPTV Zone has been expanded to form a hub for a new area and visitor attraction showcasing advances in connected consumer devices and exploring their impact on content creation and distribution.
The IBC2010 IPTV Zone will be accompanied by the IBC2010 IPTV Zone Business Briefings to which attendance is free. These briefings will examine some of the issues and opportunities arising from this revolution in broadcast content delivery in further detail and are intended to reinforce and complement the established peer reviewed, paid-delegate IBC Conference. Amongst the subjects addressed at this year's Business Briefings will be the impact of new technologies on traditional revenue streams and the emergence of new business models and funding mechanisms.
Commenting on the development of the IPTV Zone at IBC2010, Mike Crimp, CEO, IBC said: "We have seen a huge growth in the deployment of IPTV-based services over the last year and great advances in technology including the emergence of new breeds of connected devices such as hybrid TVs. These advances are creating enormous opportunities for both content creators and broadcasters and it is natural that the industry's leading broadcast event should play a leading role in both showcasing innovations in IPTV and shaping the agenda for future developments."
The IPTV Zone at IBC2010 is being jointly developed and marketed by IBC, IT Europa and BPL. The IBC2010 exhibition takes place from 10th - 14th September 2010 at the RAI, Amsterdam.
About IBC
Established in 1967, IBC has evolved from its roots in terrestrial broadcasting to become the leading event for professionals involved in the creation, management and delivery of entertainment and news content worldwide. The exhibition attracts over 1,300 exhibitors including all the major equipment suppliers. IBC attracts over 45,000 attendees from more than 140 countries that visit each year to see the state-of-the-art in content creation, management and delivery. The world-renowned IBC Conference tackles all the hot creative, management and technical. For full details, demographics and news visit www.ibc.org
About IT Europa and BPL
IT Europa is the leading provider of strategic business intelligence, news and analysis on the European IT marketplace and the primary channels that serve it. It publishes European channel publications such as 8020 Europa and the IT Europa Newsletter. IT Europa also markets a range of database reports and organises European conferences and events for the IT and Telecoms sectors.
BPL publishes a range of both end-user and channel publications for the IT, Telecoms and Broadcast sectors. It also organises a number of conferences, seminars, industry awards and other events. Its main titles include, Comms Dealer, Retail Technology, IBE (International Broadcast Engineer) IPTV in Focus and C2M (Content to Mobile) which is a joint venture with IT Europa. IBE and IPTV in Focus are media partners for the IPTV Zone. For further information on IT Europa and BPL visit: www.iteuropa.com or www.bpl-business.com
For further information contact:
Alan Norman
Tel: +44 (0) 1895 454 604
Email: alan.norman@iteuropa.com
W: www.iteuropa.com