Eindhoven, 19th August 2009 - Liquavista today announced that its board of directors has named Guy Demuynck to serve as the company's chief executive officer.  Guy brings over 30 years experience working within the Consumer Electronics Market to Liquavista and will be instrumental in helping to drive the commercial development of their electrowetting based displays.
"My special interest has always been in translating a technology into real consumer benefits, with a long term view on volume scalability" stated Mr Demuynck, "Liquavista's technology addresses some key consumer desires; energy consumption; outdoor performance; video & colour within the digital mobile product space – it can really revolutionise the user experience."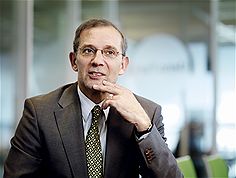 Guy Demuynck
"With our successful funding round completed and as we are now able to demonstrate our technology, it was important we appointed a CEO who can give us leadership in the commercial application of our exciting display capabilities" said Nigel Litchfield, Chairman of Liquavista. "Guys experience of running a major consumer electronics division and his wealth of talent and knowledge will be a huge benefit to Liquavista and underlines our commitment to improving display technology to meet future product needs"
"I can't wait to get started!" continued Demuynck, "Consumer electronics is a fast moving; challenging section of industry and electronic readers are one of the exciting developments within that market.  Liquavista displays are well suited to driving a broad range of versatile consumer applications and bring a real advantage to the users."
Guy previously was a member of the Board of KPN N.V. and a member of the Group Management Committee at Philips N.V., where he held the position of CEO of the Consumer Electronics Division.  In this role he was instrumental in turning a traditional vertical integrated business into an asset light company by using relevant in house competencies with key outsourced partnerships.  Guy also managed the transition of Philips' Consumer Television CRT business into the fast growing flat panel LCD market.  His experience throughout his career has been around re-shaping production, manufacturing and marketing approaches to enable reduced time to market, flexibility in volumes which has driven key and real competitive edge – whilst helping to shape technology into consumer benefit-led products.
Liquavista's technology enables new types of paper-like display that will provide vastly improved usability, content compatibility and cost compared with first generation electronic paper technologies.  Aimed initially, at the fast growing electronic reader market place, Liquavista's first active-matrix technology platform, LiquavistaBright, will be ready for transfer to manufacturing partners at the end of Summer 2009.
Guy serves as well as a non executive director on the Board of Belgacom S.A and as a member of the Supervisory Board of TomTom N.V.
About Liquavista – www.liquavista.com
Liquavista offers a new type of electronic screen technology that will change the way we interact with mobile phones, media players, electronic readers and other mobile devices.  Liquavista's displays create bright and colourful images that ensure excellent indoor and outdoor viewability and use dramatically less battery power.  Users can engage with their favourite applications for longer before a recharge is necessary and battery sizes can be reduced allowing devices to be thinner and lighter.
The company's ultimate vision is to build on the extraordinary optical performance and unique power efficiency of its technology to lead a green revolution in low power displays for notebook PCs, desktop monitors and televisions.
Liquavista was founded in 2006 as a spin-out from the world famous Philips Research Labs in Eindhoven.  The company is backed by Amadeus Capital, GIMV and Prime Technology Ventures.  It is headquartered in Eindhoven, The Netherlands
MEDIA: For further information please contact:
Joanne Eames, Liquavista UK
+ 44 (0) 7840 937841
joanne.eames@liquavista.com