A new Contract Hire and Finance Lease offer for the new Transporter, which arrives in Volkswagen Van Centres from 4 January 2010, starts from £239 a month (plus VAT and deposit). Despite the new vehicle's enhanced engines and improved specification, this monthly rate is just £10 a month more than the current offer for the outgoing van.
To make all its vans as affordable as possible in 2010, Volkswagen Commercial Vehicles is continuing or improving the same low rate Contract Hire and Finance Lease offers which have been so popular in 2009. In addition, as many businesses need people carriers with seven seats, Volkswagen is introducing Contract Hire and Finance Lease offers for the first time for the Caddy Maxi Life and the new Caravelle.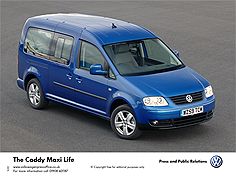 The Caddy Maxi Life
Contract Hire and Finance Lease rates for the Caddy and Caddy Maxi stay the same, starting from £189 a month and £209 a month (plus VAT and deposit) respectively, while at the top of the range, the Crafter is now available from £349 a month (plus VAT and deposit) with free servicing for three years or 60,000 miles (whichever is sooner). The new Contract Hire and Finance Lease rates for the Caddy Maxi Life and Caravelle start from £209 and £349 a month (plus VAT and deposit), respectively.
These offers are available from 1 January until 31 March 2010 at Volkswagen Van Centres, and can be tailored to suit individual customer's needs and budgets.
Simon Elliott, Director of Volkswagen Commercial Vehicles, said: 'Some people still think Volkswagen vans are expensive, but we can offer some of the best low-rate finance to make them highly competitive for people wanting low, fixed monthly costs.'
Contract Hire is an increasingly popular way for businesses to finance their new vehicles as it allows a fixed monthly rental over two, three or four years and then at the end of the contract, the operator can simply hand the vans back. Service and maintenance costs can be included in the monthly rental payments, along with the annual Road Fund Licence and provision of a replacement vehicle.
Finance Lease is a cost-effective way of eventually owning a new van. Lease periods range from one to four years with monthly payments, but a percentage of the vehicle's cost is held as a deferred payment until the end of the agreement. Furthermore, the interest paid is allowable against income tax for most businesses.
Full details of the Volkswagen van range and all finance offers are available from www.volkswagen-vans.co.uk.
(ends)
About Volkswagen Commercial Vehicles
Volkswagen Commercial Vehicles is a provider of high quality new and used vans. Our award-winning range includes: the iconic VW Transporter, the California, the Crafter, the Caravelle, the Caddy and Caddy Maxi.
Vans for sale such as used California, used Transporter and used Caravelle models can be found through our network of Volkswagen UK Van Centres.
Our network of UK van rental centres offers VW van hire services to cover a range of requirements from moving house, to keeping your business on the move.
For more information, please visit www.volkswagenpressoffice.co.uk or contact John Rawlings, Press and Public Relations Manager, Volkswagen Commercial Vehicles on 01908 601478, 07872 379544 or john.rawlings@vwcv.co.uk