Avoid festival pitfalls with the top festival gadgets this summer
As the days get hotter, we're moving into festival season, and while everyone else is digging out their old tents and galoshes, Reevoo.com has put together an ultimate festival gadget guide to help people avoid all the usual festival pitfalls.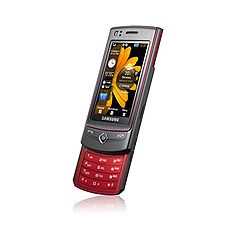 Samsung Tocco Ultra
Data from Reevoo.com's network of online retailers shows that people have already started looking at festival gear.  Jo Reale, spokesperson for Reevoo.com said "If you're going to a festival this year, the best advice is to be prepared and have fun. We've looked at a variety of gadgets that are not only practical but will make this festival one to remember".
The Samsung Tocco Ultra receives a score of 8.0/10 from owners and combines three useful festival gadgets in one: It has sat nav to help festival goers get to their destination; lost tents can be avoided by pin-pointing camps with Google Maps after pitching; and music-lover apps such as Shazam can be downloaded which will recognise a tune within a few notes and take listeners to iTunes to purchase the track.
One of the most common festival problems is mobiles running out of battery. However, a wind-up charger will ensure revellers never lose contact with their mates and there are no plugs required.
Festival best-bits can be captured with the Olympus MJU 1050. It's tough, waterproof and shockproof so it will withstand even Glastonbury's mud-caked welly stampedes.  With 12x digital zoom, a VIP view of the stage can be snapped from anywhere.  The 30fps video capture mode will also provide endless replays of the best bands on stage. Owners are very impressed with the Olympus, it receives a score of 8.6/10 with one reviewer labelling it "virtually indestructible".
Missing the action during bathroom breaks are a thing of the past with the Roberts Solar DAB radio, which will tune into festival coverage in even the filthiest of facilities. It is solar powered so running out of batteries is not an option. It's rated 8.9/10 by very impressed owners.
After the artists have finished, the music doesn't have to stop with the Sony NWZ-A816 Walkman which scooped gold in the Reevoo Customer Choice Awards earlier this year and scores 9.3/10.
An MP3 dock is an essential piece of festival kit. The iMode Boombox is rugged and a steal at only £25.
Queuing for showers is an off-putting and generally avoided part of festival life but the Super Solar Shower in a bag will change the course of festival hygiene forever. It needs a branch or equivalent high-lying object when in use and can be refilled time and time again. The solar panel will heat the water for maximum comfort and the whole unit will only cost campers £5.
Finally, a festival kit bag wouldn't be complete without a wind-up head torch. At £15, the Uni-Com torch is a bargain.
-ENDS-
About Reevoo.com
Reevoo.com harnesses the power of genuine customer opinion to help shoppers decide what to buy – and to buy with confidence. Independent and impartial, Reevoo.com collects hundreds of thousands of authentic post-purchase reviews from European shoppers every month.  All reviews, favourable and critical, are published on www.reevoo.com, and alongside products on retail partner websites. In addition to reviews, Reevoo.com offers shoppers comprehensive product information and price comparison data to make finding and buying the right product as simple and convenient as possible. More than sixty leading retail brands including Tesco Direct, Vodafone, Currys and Ann Summers already use the Reevoo.com service, sharing more than half a million reviews on more than 40,000 products.  Reevoo.com has offices in London and Paris, was founded in 2005 and is backed by Eden Ventures and Banexi Venture Partners.
Shoppers can also keep up to date on Reevoo's blog, www.decidewhattobuy.com