Christmas can be a stressful time of year, especially when you have lots of gifts to buy. That's why Reevoo.com is providing shoppers with gift ideas for all the family in the run-up to Christmas. This week, Reevoo looks at present ideas for Dads.
Give your Dad a break from socks and hankies this Christmas. We've got plenty of much more interesting gifts you can surprise him with: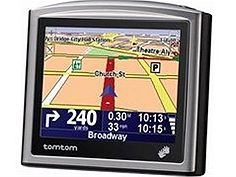 TomTom One Explore
For DIY Dads – this Black and Decker 18V Cordless Hammer Drill is £105. It's a little riskier than socks so it's probably best if you monitor any activity.
For Dads who think they know best – save them the embarrassment of getting completely lost because they refuse to ask for directions and get them this TomTom One Explore. It's £105 and has some great reviews.
For Dads that need a hobby – Dads love to embarrass their children so give them this Canon IXUS 85 IS camera (£126) so that they can take photos to taunt you with for years to come.
For music-loving Dads – get them this 4Gb Sony NWZA816 player (£56). And make this gift even more special by loading all of his favourite albums onto it before you give it to him.
For gadget Dads – if your Dad likes going to the pub with friends, he'll love this gadget. Bring the pub to him with this Carlsberg pump (£99). He can impress his friends and save money on travel at the same time.
Presents on a budget – If you're a little low on cash, get him a CD that you know he'll like. Why not try the Dad Rocks! Album (£10). It's full of classic rock tunes that will remind him of yesteryear.
For more gift ideas, see Reevoo's blog Decide What to Buy.
-ENDS-
Shoppers can keep up-to-date on the latest consumer news and reviews on Reevoo's blog at www.decidewhattobuy.com.
When shoppers buy goods online from any of Reevoo's 55 retail partners, including Woolworths, Currys, Dixons and the Carphone Warehouse, they are asked to rate their purchases. Their comments – good, bad or indifferent – are then published on both the e-tailers' websites and on www.reevoo.com.
More information:
Jo Reale
joreale@reevoo.com
020 7654 0341