If your VHS player's on the blink and you finally want to invest in the DVD revolution, or if you want to ensure that all that great Christmas telly is recorded, you might be on the lookout for a DVD recorder.
There are plenty on the market and you can pick yourself up a decent one for under £100 these days. Consumer review website Reevoo.com (www.reevoo.com) has searched through nearly 50 machines to pick out the best, as rated by people who have all bought the products.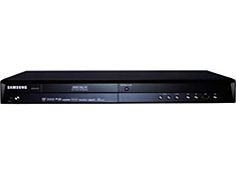 Samsung DVD-R155
Top five DVD recorders
1. Samsung DVD-R155 - £101
2. Sony RDRHXD890 - £160 
3. Panasonic DMR-EX78 - £205
4. Panasonic DMR-EX768 - £171
5. Panasonic DMR-EZ28E - £115
For the top 10, see Reevoo's blog Decide What to Buy.
Panasonic dominate the top 10 highest rated DVD recorders with four machines. Owners love their ease of use, image quality and design although a few people mention that they can be a little unresponsive.
The Samsung DVD-R155 was the highest rated DVD recorder and interestingly, also the cheapest in the top five. It received great scores for reliability and speed and consumers love its sleek design and how easy it is to use. The only thing to watch with this machine is its lack of a tuner which means that you'll have to watch the channel you're recording.
If you want a good all-rounder that's great value for money, go for the £155 Panasonic DMR-EZ28E. It comes with built-in a Freeview digital tuner and it will play and record on most discs.
When you're looking for a DVD recorder, make sure it has the functionality you require. If you like recording the odd episode of Eastenders quickly, make sure it has a hard drive so that you don't have to fiddle around with discs before you can record anything. Also check for how many tuners the machine has. If a DVD recorder has more than one tuner, it will let you record more than one programme at the same time. And finally, make sure it will play and record on the discs you'll be using.
The best way to check if a machine is right for you is to read reviews from people who have bought and used them first. You can read hundreds of reviews for DVD recorders on Reevoo.
-ENDS-
Shoppers can keep up-to-date on the latest consumer news and reviews on Reevoo's blog at www.decidewhattobuy.com.
When shoppers buy goods online from any of Reevoo's 55 retail partners, including Woolworths, Currys, Dixons and the Carphone Warehouse, they are asked to rate their purchases. Their comments – good, bad or indifferent – are then published on both the e-tailers' websites and on www.reevoo.com.
More information:
Chris Winstanley
chriswinstanley@reevoo.com
020 7654 0340
Jo Reale
joreale@reevoo.com
020 7654 0341