- Chip maker SanDisk is surprise winner of Best Value for Money MP3 player at this year's Reevoo Customer Choice Awards
- Little-known brand thrashes the iPod in the largest national poll of owners
In a month in which an unlikely looking lady from Scotland took the music world by storm, another music industry unknown has scored a shock victory over some of the world's biggest and most stylish brands.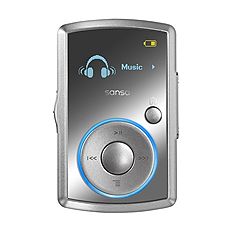 Sandisk Sansa Clip 8GB
A budget MP3 player available from Currys for £39.99 has scored top marks in a poll of thousands of owners to secure this year's value for money award in the annual Reevoo Customer Choice Awards.  The gadget, developed as a sideline by a company that makes memory chips for high tech products, has beaten style icons from the likes of technology giants Apple and Sony to win the coveted vote of confidence from shoppers. The victory for manufacturer SanDisk reflects the growing focus of customers on products that combine both function and value.
The 8GB SanDisk Sansa Clip scored 9.1 out of ten for value for money, beating out the £100 Apple iPod Nano and other more expensive MP3 players.  Customers gave multi-function devices a wide berth and focused instead on SanDisk's simple, no frills format and its ability to play good quality music on the move. The SanDisk Sansa Clip has the same memory capacity as the iPod – enough to hold 2,000 songs in MP3 format – but costs less than half the price.
Sam Bostock, Reevoo.com's resident noise expert said, "We're in the midst of a phase when shoppers are increasingly focused on straightforward, value-for-money products that do what it says on the tin. There's no doubt that Apple's range offers an impressive array of features and benefits, but right now more shoppers are more concerned about getting maximum bang for minimum buck. For shoppers on a budget, the Clip offers great value at bargain bin prices."
More than half a million genuine owners of gadgets were asked for their opinions across 20 categories in the 2009 Reevoo Customer Choice Awards.  Reevoo.com writes to confirmed shoppers a month after purchase and collates reviews, good and bad, for publication on Reevoo.com and on a network of websites run by sixty of the UK's leading electrical retailers.
Technology giant Apple has dominated the $145 billion portable music player market for the past 10 years with the hugely popular iPod range. To date, approaching 22 million iPods have been sold worldwide since the first model launched in 2001.
Owners of the SanDisk said:
"I would say it was of a higher music playing standard then an iPod."
"It fits anywhere, not a big bulky player like some of the other brands."
 "It is a marvellous music player, would recommend to anyone."
"Bought one of these for my son and he thinks it's great. The clip on the back (hence the name) has a reassuringly good grip for attaching to clothes which makes it ideal for in the gym or jogging, which my son does a lot of."
The full top 10 Value for Money MP3 Players:
1. Sandisk Sansa Clip 8GB
2. Sony NWZA816
3. Sony NWZS639F
4. Creative Zen 8GB
5. Creative Zen Stone 1GB
6. Samsung YPT10 JAB
7. Sony Walkman NWZE436F
8. Apple iPod shuffle 1GB 2nd generation
9. Creative Zen 4GB
10. Sony NWZA818 8GB
Ends
Hi res images available on request.
About Reevoo.com
Reevoo.com harnesses the power of genuine customer opinion to help shoppers decide what to buy – and to buy with confidence.  Independent and impartial, Reevoo.com collects hundreds of thousands of authentic post-purchase reviews from European shoppers every month.  All reviews, favourable and critical, are published on Reevoo's website, www.reevoo.com, and on retail partner websites adjacent to the products.  In addition to reviews, Reevoo.com offers shoppers comprehensive product information and price comparison data to make finding and buying the right product as simple and convenient as possible. More than sixty leading retail brands including Tesco Direct, Vodafone, Currys and Ann Summers already use the Reevoo.com service, sharing more than half a million reviews on more than 40,000 products.  
Reevoo.com has offices in London and Paris, was founded in 2005 and is backed by Eden Ventures and Banexi Venture Partners.
Reevoo reviews of the SanDisk Sansa Clip: http://www.reevoo.com/reviews/mpn/sansa/clip
Reevoo reviews of MP3 Players: http://www.reevoo.com/browse/product_type/mp3-players
Read more on Reevoo's blog www.decidewhattobuy.com