Volkswagen Commercial Vehicles is launching its first broadcast sponsorship of a new Channel 4 'Adventure on 4' programming strand, starting on 9th April 2009 with 'Around the World in 80 Trades'.
The 12 month sponsorship package with Channel 4 represents a significant media value and includes sponsorship bumpers with the tag line 'Adventure on 4 in partnership with Volkswagen Commercial Vehicles' (www.vwcv.co.uk).  The creative will run before and after each programme and will be supported by sponsor branded promotional trails.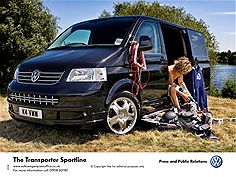 Transporter Sportline
The sponsorship also extends to Channel 4's online video-on-demand service with pre-roll and mid-roll sponsorship bumpers played during every stream.  The other programmes in the 'Adventure on 4' series include 'Deadliest Catch', 'Daredevils', and 'Into The Wild'.
The sponsorship bumpers will focus on  Volkswagen's range of award-winning vans - the Caddy, Transporter and Crafter – with the closing strapline, 'A solid investment whatever your trade. Volkswagen Commercial Vehicles. Let's Go To Work'. 
Steve Reynolds, Head of Marketing for Volkswagen Commercial Vehicles explained: 'This TV advertising is an important and visual part of our communications strategy for 2009.  In conjunction with our radio campaign, featuring the distinctive voice of Ray Winstone, this will maximise awareness of the Volkswagen Commercial Vehicles brand and our hard-working range of vans – the Caddy, Transporter and Crafter'.
For details of the Volkswagen Commercial Vehicles range of vans and passenger carrying vehicles, or any of the latest finance offers, please call 0800 717131 or visit  www.volkswagen-vans.co.uk.
(ends)
About Volkswagen Commercial Vehicles (www.vwcv.co.uk):
Volkswagen Commercial Vehicles is a provider of high quality new and used vans.  Our award-winning range includes: the Transporter van, the California, the Crafter, the Caravelle, the VW Caddy and Caddy Maxi.
Vans for sale can be found through our network of Volkswagen UK Van Centres by visiting www.volkswagen-vans.co.uk/van-centres
Our network of UK van rental centres offers VW van hire services to cover a range of requirements from moving house, to keeping your business on the move.  To find your nearest Volkswagen van rental centre, visit www.volkswagen-vans.co.uk/aftersales/van-rental.
CONTACT DETAILS
For more information, please visit www.volkswagenpressoffice.co.uk or contact John Rawlings, Press and Public Relations Manager, Volkswagen Commercial Vehicles on 01908 601478, 07872 379544 or john.rawlings@vwcv.co.uk