Movie fans may be mistaken in thinking the premiere of the film version of the 80's TV series, The A Team, has come early as the famous black and red striped van takes to the streets of Milton Keynes.
The enduring iconic van will join two other TV classic vehicles as Wayside Van Centre marks the arrival of the new Volkswagen Transporter range.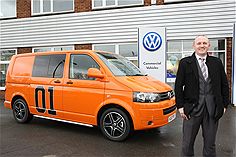 The Dukes of Hazzard Volkswagen Transporter
The Bletchley-based Volkswagen Van Centre will transform its new Transporter courtesy fleet by recreating the bright orange General Lee from the Dukes of Hazzard and the Starsky and Hutch red and white Gran Torino, in addition to The A Team van.
Inspired by Wayside's aftersales manager, Buck Rogers, the memorable vans are aimed at bringing a smile to the faces of the residents of Milton Keynes as Duncan Sands, Wayside's head of business explains.
"The stylish new Volkswagen Transporter range is quieter and more economical with the Euro5 common rail TDI engines, but we wanted to make lots of noise about its arrival.
"Recreating the distinctive brightly coloured classic 80's favourites seemed a fitting tribute to Volkswagen's latest commercial vehicle. The Transporters will become part of our courtesy vehicle fleet provided to our customers whose own vehicles are been serviced.
"We hope our customers will have as much fun driving the new vans as we've had creating them". To quote the famous A Team character, Col John 'Hannibal' Smith, 'I love it when a plan comes together'.
The new generation Transporter embodies a new 2.0-litre four-cylinder common rail TDI engine, which offers greater power and torque levels extending service intervals to a maximum of 25,000 miles, reducing running costs.
There are a number of new aesthetic and mechanical features that set new standards of finery plus optional new safety features such as a tyre monitoring system to alert drivers of changes in tyre pressure and 'side assist', which warns the driver if there are vehicles in the blindspot.
For more information from the Wayside Van Centre on Bilton Road, Bletchley , visit www.volkswagen-vans.co.uk/van-centres/wayside or phone 01908 366300.
(ends)
About Volkswagen Commercial Vehicles
Volkswagen Commercial Vehicles is a provider of high quality new and used vans. Our award-winning range includes: the iconic VW Transporter, the California, the Crafter, the Caravelle, the Caddy and Caddy Maxi.
Vans for sale such as used California, used Transporter and used Caravelle models can be found through our network of Volkswagen UK Van Centres.
Our network of UK van rental centres offers VW van hire services to cover a range of requirements from moving house, to keeping your business on the move.
For more information, please visit www.volkswagenpressoffice.co.uk or contact John Rawlings, Press and Public Relations Manager, Volkswagen Commercial Vehicles on 01908 601478, 07872 379544 or john.rawlings@vwcv.co.uk