Delivering the Triple Play of Rich Voice, Data, and Video Through The Smallest Form Factor in its Class in the Industry
New Wyse C class Thin Clients Combine Breakthrough Performance, Compactness, and Energy Efficiency while Integrating PC, Phone and TV Functionality into One Single Platform for the Enterprise Users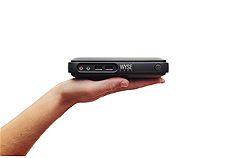 C class
LONDON, UK. – 8 Sept 09 - Wyse Technology, the global leader in thin computing and client virtualization, today announced the release of the Wyse C class, the new standard in compact, high-performance thin clients.  A new benchmark in thin computing has been set by its small size, low TCO and excellent performance.  Wyse's new C class thin clients feature innovative, rich multimedia using a separate hardware graphic accelerator for unparalleled performance in its class.  Its local multimedia performance also ensures a lighter load on the central server, enabling Wyse's original Collaborative Processing Architecture™ to deliver the best user experience using VMware View 3.1 and Wyse's TCX solutions on VMware, Citrix, and Microsoft virtual environments.  The Wyse C class also supports Wyse WSM zero-client provisioning software.  Wyse will be demonstrating the C class at VMworld 2009 in San Francisco, California, at Booth #1824.
The Wyse C class thin client is powered by a VIA C7 1 GHz processor and an advanced hardware graphics accelerator delivering stunning video and multimedia playback – all the way up to 1080p HD. 
"Wyse C class thin clients are wonderful examples of how VIA's power efficient processors are helping today's leading technology companies offer innovative products with top-notch performance," said Wenchi Chen, President and CEO, VIA Technologies, Inc.
"Because of the Wyse C class wireless and performance capabilities, its small form factor, and management options, we believe this will be the perfect new solution for our corporate training facilities as well as the recommended clinical access solution for our hospitals," according to Dave Nash Enterprise Desktop Lead at Adventist.  "Adventist shares Wyse's commitment to delivering products that help healthcare agencies provide simple, secure access to clinical information and lower costs without compromising quality, and the C class is another great example of this."
The Wyse C class is also one of the first to meet the ENERGY STAR® Version 5.0 specification, demonstrating that it is among the most energy-efficient in its category.  Products that earn the ENERGY STAR prevent greenhouse gas emissions by meeting strict energy-efficiency guidelines set by the U.S. Environmental Protection Agency (EPA). The ultra low-power consumption clients draw just under 7 watts of power and generate very little heat.  As a result, each C class client contributes to cooler working environments, greatly reduced carbon footprints, and huge savings in energy costs when compared to equivalent PC desktops.  Furthermore, a C class deployment will improve server capacity using collaborative video processing, in conjunction with the Wyse TCX software.
"We value Wyse Technology's contribution to cutting carbon and fighting climate change as an ENERGY STAR partner," said Kathleen Hogan, Director of the EPA's Climate Protection Partnerships Division.  "If all computers sold in the U.S. met ENERGY STAR requirements, Americans would save $2 billion each year in energy costs and reduce greenhouse gas emissions equivalent to those from nearly 3 million vehicles."
"Today's businesses are looking for computing solutions that combine compactness, lower TCO, and improve energy efficiency; all without compromising power and productivity," according to Bob O'Donnell, Vice President at IDC. "Companies looking to do desktop virtualization need the full capabilities of traditional PCs in their thin clients, particularly when it comes to media playback and graphics performance."
"Using VMware View in conjunction with the new Wyse C class thin clients will help our customers further lower desktop TCO and deliver a strong user experience, including rich peripheral support," said Patrick Harr, vice president, product marketing, Desktop Business Unit, VMware."Wyse is a strong partner and we are excited to see continued innovation that drives adoption of virtual desktop environments."
"Wyse is enabling our joint customers to make the most of their Citrix solutions and enable a high-definition user experience," said Calvin Hsu, director of product marketing, XenDesktop product group at Citrix Systems.  "The C class is perfectly suited to enable customers to take full advantage of Citrix HDX Technology and deliver a complete Windows desktop experience."
"Microsoft is pleased to work with Wyse on its C class high-performance thin clients  and to showcase the capabilities of Windows Embedded Standard 2009, Windows XP Embedded and Windows Embedded CE," said  Ashwin Kulkarni, senior product manager for Windows Embedded at Microsoft Corp.  "By incorporating support for the Windows Embedded portfolio of platforms and technologies, Wyse is fostering the continued creation of connected, specialized devices that help deliver immersive user experience."
"Our customers asked us to create the next generation multimedia-focused thin client that would offer category-leading performance while bringing rich voice, data, and video to life. We are happy to announce that the C class delivers this and more. Our customers will be able to benefit from the great user experience, in balance with minimal energy use, and packaged in a very small footprint," said Kiran Rao, Director, Product Management, Hardware Platforms at Wyse Technology.  "We are all seeing the rapid growth in demand for high definition media applications.  With the C class our customers are now able to fully leverage those applications, while our competitors are still struggling to deliver basic media-enabled thin clients. Wyse is proud to once again raise the bar with introduction of the C Class."
The Wyse C class simple management is secured with Wyse Device Manager (WDM).   Regardless of location, WDM provides C class devices with a comprehensive and secure thin client management solution.  Secure HTTPS-based communications, powerful device policy, and configuration management are some of the management features to help simplify IT departments' workload.  Real-time asset management, health-monitoring and remote imaging also guarantees the C class management superiority.  The connection versatility of the C class makes it easy to use and manage in almost all environments:
     • DVI-I dual display video output
     • Two PS/2 ports
     • Optional Wireless b/g and n
     • Kensington Lock Slot
     • 10/100/1000 Base-T Ethernet port
     • Four available external USB 2.0 ports (2 front; 2 back)
     • Audio Out: 1/8-inch mini jack, 16 bit stereo
     • Audio In: 1/8-inch mini jack, 8 bit stereo microphone
Pricing and Availability
The C class delivers breakthrough performance starting at £245 for Microsoft CE 6 and £311 for Microsoft Windows XP Embedded.  The C class will be available in September, 2009.  For more information, please visit http://www.wyse.co.uk/products/hardware/
About Wyse Technology
Wyse Technology is the global leader in thin computing-based virtualization software and hardware solutions.  Wyse and its strategic partners, including, Citrix, IBM, Microsoft, Novell, VMware, and others deliver the innovative hardware, infrastructure software, and services that formulate the benefits of cloud computing, virtualization and Green IT.  These thin computing solutions allow consumers, public and private enterprises to access the application information they need, but with better security, manageability, and at a much lower total cost of ownership than a PC.  Wyse is headquartered in San Jose, California, with offices worldwide.
For more information, visit the Wyse website at http://www.wyse.co.uk or call 0845 604 0038 (UK only) or +44 (0) 118 934 2200
All brands and names mentioned herein are trademarks of their respective holders.