EverySingleOneOfUs unites brands, carriers, publishers, associations and industry experts to identify solutions and best practices that facilitate positive change in the development of the mobile advertising ecosystem
London, UK – December 9th 2008 – An industry movement entitled EverySingleOneOfUs  (www.everysingleoneofus.com) launches today as a grassroots resource, aggregating knowledge, and authorizing best practice and methodologies that ensure optimal mobile advertising user experience.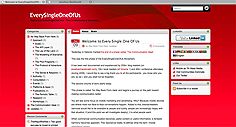 EverySingleOneOfUs Screenshot
Founded by Jonathan MacDonald, who was previously a Chairman of the Music Industries Association, Commercial Director of Ministry of Sound, and Sales Director at the advertising-funded mobile network Blyk, the effort unites a cross-section of mobile operators, mobile companies and big-name brands to educate the market and encourage discussions about emerging business models, industry issues and areas of growth that will help companies, stakeholders and shareholders engage with potential consumers and ultimately drive mobile advertising revenues and positive results.
The success of mobile advertising and subsidized models based on delivery of content, applications and services, is dependent upon the willingness of participants to accept advertising on their mobile devices. Whilst recent research, including a 2007 survey by Generator Research, confirms that over half of mobile users (61% US and 72% UK) are interested in mobile advertising, there is a catch: Mobile advertising must be relevant and genuinely useful. Ultimately, users demand advertising that relates to their interests and is tailored to their specific needs. Anything else will be perceived as 'spam', which degrades the experience, increases the likelihood of churn, and breeds a distinct lack of trust.
"I created this movement as a collaborative project for us all to grow the industry together," said Jonathan MacDonald, Founder of EverySingleOneOfUs. "The promised land of 'upward curve revenue' from mobile is unlikely to happen without a catalyst. This catalyst can only come, in my opinion, by working together in the interests of citizens rather than the protective interests of various elements of the value chain. The EverySingleOneOfUs movement uses state-of-the-art tools to map out structure and progress, such as 'Personal Brain' (www.thebrain.com), and cutting edge publishing platforms to ensure clarity, access and freedom of expression."
The inspiration for the EverySingleOneOfUs movement comes from The Communication Ideal (Vol 1), a comprehensive and collaborative online publication authored by MacDonald, drawing on the passions and pragmatism of a loose group of contributors -- ranging from senior executives at mobile networks such as Carl Taylor, Director of Applications & Services, Hutchinson Whampoa, through to renowned bloggers/research analysts including Peggy Anne Salz, Founder of MSearchGroove, and thought leaders like best-selling author and independent consultant Tomi Ahonen -- to identify and differentiate the shortcomings in mobile advertising approaches, more specifically the industry's blanket assumptions about user behaviour, from the positive opportunities and potentials for growth. Based on these insights, MacDonald has connected with a wider network of professionals and practitioners to develop No Way Back From Here (Vol 2) – a collaborative effort to provide players in the evolving mobile advertising ecosystem with a realistic roadmap to change. More importantly, this second volume – which is a work in progress - will guide the future work of EverySingleOneOfUs worldwide.
The first phase will kick off with Mobile Advertising U.K., an ambitious and far-reaching research project which will be endorsed by industry associations in early 2009. Drawing from primary research, in-depth interviews with 25+ mobile executives, agencies and mobile networks, as well as an online consumer survey, Mobile Advertising U.K. will expertly document the state of the mobile advertising industry in the U.K., and shed important light on industry obstacles and opportunities.
To an extent, Mobile Advertising U.K. will follow the blueprint of Mobile Advertising Netherlands, a mobile advertising research project spearheaded by AENEUS Strategy Consulting and Management and sponsored by some 20+ companies including GroupM, a leading media investment management operation; telecom vendor Alcatel-Lucent; mobile operators and service providers Vodafone, T-Mobile, KPN, and Blyk; and full-service media agencies Starcom, Marvellous, MADS Mediacom Mindshare, and Mediaedge:CIA.
MacDonald also states: "The research project stage will conclude by the end of Q1 2009 and will be complemented by a range of conferences, seminars and master-classes from the world's thought leaders and industry heads. Together we can mature this industry in a positive and productive way, and the angle we approach this from is firmly biased towards the best interests of the citizens of the world – every single one of us."
To learn more now, visit www.everysingleoneofus.com.
About EverySingleOneOfUs
EverySingleOneOfUs is a communications movement with a vision to enable and enhance interaction between people and commerce. It is a collaborative venture created to safeguard user experience in the ultra-connected world. Global objectives include market research, seminars, consultancy, workshops, master-classes, and platform development. By promoting and authorizing best practice, EverySingleOneOfUs intends to provide a central access point for positive and progressive communication activities focussed on citizen engagement. As a collective, EverySingleOneOfUs will facilitate and accelerate commercially viable and mutually beneficial communication. To learn more, visit www.everysingleoneofus.com.
Contact: Peggy Anne Salz
+49 172 245 1028
peggy@msearchgroove.com