London, UK 27th January 2009,
It was reported today that up to 70% of online sales of the unlocking chip SIMable are to the DACHS region of Germany, Austria and Switzerland alone.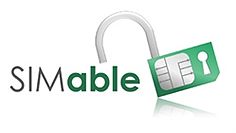 SIMable Logo
Throughout this region, both the Apple iPhone 3G and the Nokia BB5 range hold a very high market share, and prove very difficult to unlock from the original network providers. SIMable, available at www.SIMable.com claims to "virtually" unlock these handsets by freeing up the SIM card, and not physically unlocking the handset.
Introduced to the market in April last year by UK company 24/7 Mobile Solutions, SIMable online sales have exceeded the 10,000 mark, and as well as being the unlocking solution for the phenomenal iPhone 3G, it also is compatible with every Nokia, (apart from the N96).
SIMable is installed and working in a network locked handset in a matter of seconds. By using a customised manufactured cutting press, which comes with each unit, a tiny hole needs to be pressed out in the SIM card. Next SIMable needs to be aligned with the SIM and inserted into the locked handset.
In terms of handset warranty, the company state that SIMable requires no handset interference, and thus the full manufacturer's guarantee remains intact. When SIMable is removed from the handset, the unit reverts back to it's original locked state. Unlike traditional unlocking methods where payment is per handset, SIMable can be transferred from phone to phone and used infinite times.
Managing Director John O'Prey quotes "The interest from these three countries, and Germany in particular has been huge but we are not complaining. This highlights not only how popular the iPhone has been, but also how operators are making life difficult  by network locking more and more handsets".
The product is available at the company's website www.SIMable.com at a retail price of £16.99 (approx 18 Euros), with a standard small delivery charge covering all destinations worldwide. Each package includes the SIMable chip and customised cutting press.
For further information please visit www.SIMable.com or email Media@SIMable.com.
ABOUT 24/7 MOBILE SOLUTIONS LTD
Formed in 2002, 24/7 Mobile Solutions Ltd are headquartered in Essex, UK. Dealing primarily in the B2B sector, the company specialise in the analysis and eventual reduction in mobile telecommunications spend. The concept of SIMable was initiated with businesses in mind who change Network Operator and wish to utilise their existing locked handsets.
Media Contact
John O'Prey
Email: Media@SIMable.com 
Tel: +44 (0)1245 260660