- Telmap sets a new industry standard with launch of Telmap Active Interface - a multi-platform Graphical User Interface engine -
London, 29 January, 2009: Telmap, the world leader in mobile location solutions, today announced the introduction of Telmap Active Interface - a new Graphical User Interface (GUI) engine that works across all mobile operating systems currently available on the market.  The development, which is the first of its kind, sees Telmap using a Lightweight User Interface Toolkit (LWUIT) from Sun Microsystems as the base technology for the GUI's core elements. This in turn offers users the first unique cross platform GUI engine to provide the ultimate experience available on mobile devices.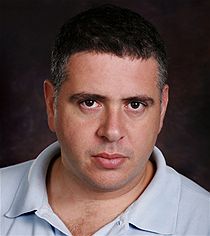 Oren Nissim, CEO, Telmap
All future product developments from Telmap will use this new GUI engine as standard, which will allow Telmap's products to continually offer the best and most consistent experience for mobile search, mapping and navigation to users on all mobile platforms.  This consistent high standard ensures easy porting of graphic elements amongst different platforms, allowing also weaker mobile platforms to still provide rich user experience.
"Operators are fast acknowledging the importance of a consistency in user experience across all devices and services they offer", said Oren Nissim, CEO of Telmap.  "Telmap recognised the importance of developing such a framework that will easily allow porting of graphic components across multiple mobile platforms in a standardised manner. Essentially Telmap aims to raise the bar in mobile user experience with an appreciation of those specific requirements needed for location based applications. 
Users will enjoy high quality and advance experience from the animation and animated transition screens to the on-map transparent floating menus.  Users will also see a configurable screen layout for menus, tabs and dropdown lists as well as a cleaner, more flexible font effects and screen transitions. The overall effect will create a cleaner, sharper offering for users.
Telmap's service is already available to millions of consumers globally and is available in Europe (Orange FT Group, Vodafone, SFR, The Carphone Warehouse and O2), in North America (AOL MapQuest, Sprint, ATT), and in Africa (Vodacom).
Telmap will showcase the new Telmap Active Interface at Mobile World Congress in Barcelona next month (Hall 1, stand 1E02)
- ENDS -
Notes to Editors
About Telmap
Telmap is a world leader in Mapping and Navigation Solutions. Since it was founded in 2000, the company has established a solid reputation for providing its customers with innovative, value added navigation solutions that open new business opportunities and generate new revenue streams. Telmap is the first company to provide a comprehensive cross-platform solution for mobile phones. The company's flagship product, Telmap Navigator, enables users to find their destination quickly and easily by means of pinpoint accurate turn-by-turn navigation. Telmap's unique solution which also includes a market leading LBS platform supports Java, Symbian, BREW Windows, BlackBerry and UIQ devices enables the mobile industry to extend the reach to new markets and customers. Telmap is the #1 choice of mobile mapping and navigation solution and its technology has been chosen by leading industry players Orange FT Group, Vodafone, Vodacom, SFR, O2, AOL, Pelephone, Carphone Warehouse and more. For more information, please visit www.telmap.com or http://telmapnavigator.com
In November 2008, Research In Motion (RIM) awarded Telmap the 'Life on BlackBerry' award at the EMEA Alliance Program Innovation Awards in Monaco, which recognised Telmap for its contribution to the overall experience when using a BlackBerry device, and ultimately the product differentiation it has brought to the BlackBerry platform.
###
For further information on Telmap, please contact Mi liberty:
Anne Ligory
T: +44 (0) 20 7751 4444
E: aligory@miliberty.com
Gemma Yates
T: +44 (0) 20 7751 4444
E: gyates@miliberty.com