ZTE manufactures world's first low-cost solar-powered mobile phone - using innovative technology from Intivation.
Barcelona, February 18, 2009  –  Digicel Group has launched the Coral-200-Solar, the world's first low-cost solar-powered mobile phone. The Coral-200-Solar, manufactured by ZTE, uses proprietary technology from Dutch-based innovator Intivation.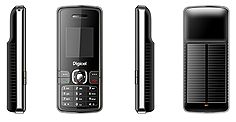 Digicel Coral-200-Solar
Since early 2008, Digicel has been providing its customers with low-cost or free portable solar chargers in many markets. The concept of linking charger devices and a phone at the point of sales has been a proven success. Now, with the launch of the Coral-200-Solar with an integrated solar charger built into the phone, Digicel takes the initiative to an even higher level.
There are an estimated two billion people in the world who have limited or no access to electricity. The population of many emerging markets in which Digicel provides cellular services will benefit greatly by access to a mobile handset that can be powered by the sun, or by electric power when it is available.
 
Tom Bryant, Digicel Group VP Distribution Procurement comments; "Solar-powered handsets are clearly the way to meet the needs of power-challenged users across the globe. While the idea of solar-powered handsets has been around for some time, it has taken the leadership of Digicel and the technology and manufacturing skills of its partners Intivation and ZTE to make the Coral-200-Solar handset a reality. This marks another first for Digicel and we think our customers are going to love this great device."
Mr Xiong Hui, VP of ZTE's handset division says: "As mobile phones continue to proliferate in emerging markets and are widely used where electricity is available, mobile operators are demanding more innovative handsets. We are confident that the Digicel Coral-200-Solar is such a product and that solar power technology can be used in any type of handset. We are pleased to provide this handset with Digicel and Intivation. It will help millions of consumers worldwide to use mobile phones more conveniently and the technology is more environment-friendly."
Digicel will begin to deploy the Coral-200-Solar in selected markets from this June.
About Digicel
Since our launch in 2001, Digicel has become the largest mobile telecommunications operator in the Caribbean and a recent new entrant to the Central American mobile market.
We are renowned amongst our customers for competitive rates, unbeatable coverage, superior customer care, a wide variety of products and services, innovative new technology and state-of-the-art handsets as well as community support and development.
On March 31, 2008, Digicel finished its last fiscal year with 6.54 million customers, representing a 39 percent increase compared to the same quarter in the previous fiscal year. Operations in 26 markets in the Caribbean and Central America include Anguilla, Antigua & Barbuda, Aruba, Barbados, Bermuda, Bonaire, The British Virgin Islands, The Cayman Islands, Curacao, Dominica, El Salvador, French Guiana, Grenada, Guadeloupe, Guyana, Haiti, Honduras, Jamaica, Martinique, Panama, St. Kitts & Nevis, St. Lucia, St. Vincent and the Grenadines, Suriname, Turks and Caicos and Trinidad & Tobago. We also provide coverage in St Martin and St Barths.
Our sister operation, Digicel Pacific Ltd, has operations in Papua New Guinea, Samoa, Tonga, Fiji and Vanuatu. Digicel is present in 31 markets worldwide. Digicel directly employs more than 5,500 people.
About ZTE
As one of the first Chinese telecoms equipment provider to pursue business in overseas markets, ZTE now has about 50,000 employees and 8,000 of them are working in about 100 representative offices around the world.
Since 1996, the company has provided products and services to 135 countries and regions, serving major telecoms operators in Asia Pacific, South Asia, North America, Europe, Latin America, Africa and the Commonwealth of Independent States. Through a combination of strategic marketing, product differentiation, cost advantage improvement, human resources optimization and intellectual property management, ZTE has established firm commercial partnerships with over 500 operators around the world.
About Intivation 
Mobilizing the sun, Intivation helps handset manufacturers and network operators bring mobile communications to 1.6 billion power challenged and environmentally aware users. We develop and market highly innovative, proprietary technology that increases the power output of solar cells making solar powered devices that work. Intivation, an Amsterdam-based engineering firm, partners with some of the world's leading ODMs, and has broad experience integrating solar power solutions in portable consumer electronics.
Intivation is the leader in the development of solar powered mobile phones, chargers and battery packs.
Media Contacts:
Nicola Smart 
AxiCom
+44 7725 761 449
Email: zteuk@axicom.com