Kit Kat bring Human Vending Machines to the Capital
Japan has already got the world hooked on sushi, tamigotchis and karaoke and now Brits are set to be wowed with the latest craze – Human Vending Machines – being brought to the UK by Kit Kat®.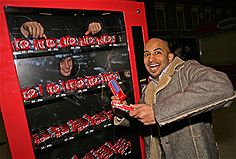 KitKat Human Vending Machine
Rather than being victim to your favoured chocolate bar getting stuck in the mechanisms of a traditional vending machine; the Kit Kat Human Vending Machine is operated by an actual human 'vendor.' The consumer will experience the speed and efficiency of a normal vending machine, with the added bonus of having a person to chat to and physically hand them their chocolate treat.
The innovative vending machine is part of the latest Kit Kat® 'Working Like a Machine' campaign, which plays off the idea that people are overwhelmed with the monotony of everyday life and so need to take a break. Consumers better just hope the 'vendor' isn't having his very own break should they need a chocolate break of their own.
This latest craze is being launched in London Victoria National Rail station on Wednesday 17th February.
Beth Lyon, Kit Kat® brand manager says:
"We're delighted to be the first to bring this craze over from Japan. It fits perfectly with our latest ad concept and highlights 'Working Like a Machine' in the literal sense, as well giving commuters a fun experience at the same time!"
- Ends –
For further information or images please contact Katy Stolliday or Lisa Rebak on 0207 693 6999 or email kitkat@frankpr.it
Notes to editors
• KIT KAT® is the UK's number 1 biscuit brand
• Total Kit Kat brand grew 10% in 2007, as more and more consumers enjoyed a KIT KAT break
• 37 KIT KAT® bars are eaten EVERY second!
• Four Finger KITKAT is designed for the classic 15 minute coffee break, two finger KITKAT for a family break and CHUNKY for a break on the go
• KIT KAT® was created in 1935 under the brand name "Rowntree's Chocolate Crisp". It changed to KIT KAT® in 1937
SOURCE – Nestle Rowntree