Keith Chegwin 'Does Something Funny For Money!" in a bid to find the UK's funniest joke
To support Red Nose Day 2009, Keith Chegwin has teamed up with Jammie Dodgers to search for the nations funniest joke. And, with only four days to go until the shortlist is announced, Keith is calling upon everyone in the UK to raise a giggle and send in his or her funniest jokes.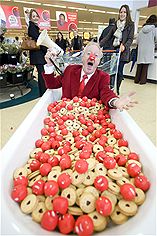 Keith Chegwin fronts Jammie Dodgers 'Give us a Giggle' campaign for Red Nose Day
From the entries Keith will select his 10 favourite jokes that will then go on to face an online public vote.  To date, approaching 1,000 wannabe comedians have logged on to the 'Give us a Giggle' website and submitted their jokes in a bid to be crowned the King (or Queen) of comedy.   These are some jokes that have got him chuckling so far:
"Two snowmen standing in a field...One says to the other, do you smell carrots?
"What did the grape say when the elephant trod on it? Nothing, it just let out a little whine!
Did you hear about the woman who drowned in a bowl of muesli? She got pulled in by a strong currant..."
If you think that you can do better and want to be in with a chance of winning an all expenses paid trip to the Edinburgh Fringe Festival, log on to www.giveusagiggle.com now!  More food (or should I say Jammie Dodgers) for thought ….
"What do you call a deer with no eyes and no legs? Still no idea!"
"Why did the hedgehog cross the road? To see his flat mate!"
Jammie Dodgers is also donating money from the sale of special Jammie Dodgers Red Nose Day packs.  For every pack sold, two pence will be donated to Comic Relief - to raise £160,000 towards making a difference to thousands of people's lives, both here in the UK and in Africa.
To add to the mischief, there's NEW! Jammie Dodger SPLAT SNACKS
If you love the fruity Jammie Dodger taste, but fancy more of a bite size treat to munch on whilst you're on the go – look out for new Jammie Dodger "Splat Snacks".  The new, fun bagged snacks are available now, MRSP, £1.39 for six x 20g bags from all leading retailers.
For more information on the 'Give us a Giggle' competition, special Jammie Dodgers Red Nose Day packs and ideas on how to do your bit for Red Nose Day, please visit www.giveusagiggle.com.
-Ends-
For further information about 'Give us a Giggle' and/or the Jammie Dodger partnership with Red Nose Day 2009, please contact:
Burton's press office on burtonspressoffice@lexispr.com or 0207 908 6583.
For further information about Red Nose Day 2009 please contact:
Nicola Walker: n.walker@comicrelief.com or call 020 7820 6966
Gemma Parkin: g.parkin@comicrelief.com or call 020 7820 6944
About Jammie Dodgers
Jammie Dodgers is a supporting partner of Red Nose Day 2009 and will donating two pence from every pack of special Jammie Dodger Red Nose Day packs sold from 28th January to raise £160,000 for Comic Relief. This year, Comic Relief is asking the nation to Do Something Funny for Money! which is why Jammie Dodgers is doing a nationwide search for the funniest joke.  For further information, log on to www.giveusagiggle.com. Jammie Dodgers (MRSP, £0.89) are available from Sainsbury's, Tesco, ASDA, & Morrisons as well as other leading retailers.
About Comic Relief
• Red Nose Day is coming on Friday 13 March 2009 and is going back to its roots, asking people to Do Something Funny for Money!
• Comic Relief's vision is to create a just world, free from poverty
• Comic Relief, registered charity 326568 (England / Wales); SC039730 (Scotland)
• Comic Relief spends all the money raised giving extremely poor and disadvantaged people in the UK and Africa a helping hand to turn their lives around
The Comic Relief promise
In order to run itself in a professional and effective way Comic Relief incurs necessary costs. Raising funds, making grants and organisational overheads cost real money. Despite these costs, Comic Relief is still able to promise that for every pound the charity gets directly from the public a pound goes to helping transform the lives of people living with poverty and social injustice. If Red Nose Day raises £50 million, Comic Relief will spend at least £50 million doing just that. It can make this promise because its operating budget is covered in cash or in kind from all types of supporters like corporate sponsors and donors, suppliers, generous individuals and government (including Gift Aid) as well as from investment income and interest.