Simon Gill and Laura Jordan-Bambach have been promoted to joint Executive Creative Director of the 450 strong marketing, technology and creative agency LBi.
Laura Jordan-Bambach has been instrumental on winning pitches for 118 118 since arriving from Glue in January where she was Head of Art.  At LBi she also works on the British Red Cross, Etihad, and M&S.  She will also be working on a possible global rebrand of the digital agency with Chris Clarke.  She has over 50 pieces of award winning work in her portfolio.  Laura launched SHE SAYS which is an inspirational charity inspiring women in digital.  She judges D&AD Black Pencil, One Show Digital and Creative Circle to name but a few.  Her aim is to turn LBi into a seriously creative new marketing agency known for creating unique, useful and authentic brand experiences.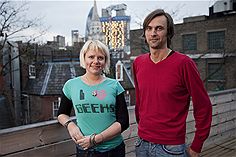 Laura and Simon
Simon Gill has worked at LBi for 3 years.  He works across all key accounts including Tourism Ireland, Orange, HMV and Barratt Homes.  In terms of awards, he's won Epicas, Crestas, New York Festival, Bima, Guardian MEGA, Campaign Digital, Webby, NMA Effectiveness & London International. His aim is to create a modern creative agency by harnessing technology to generate new forms of narrative.
"It is quite simple – We've built our proposition around building believable brands and to take that forward we've promoted two key individuals who have a passion for strong creative."  Chris Clarke,  GLOBAL CREATIVE DIRECTOR LBi
For further information please contact:
Sarah van Praagh, Press Contact, LBi UK
 +44 20 7063 6465, Sarah.VanPraagh@LBi.com
Eva Ottosson, Group Communications Manager, LBI International AB
+46 709 41 21 40, eva.ottosson@lbi.com
About LBi:
LBi is a global marketing and technology agency.  The Company employs approximately 1,600 professionals located primarily in the major European, American and Asian business centers, such as Amsterdam, Atlanta, Berlin, Brussels, London, Milan, Mumbai, New York, Paris and Stockholm.  LBi blends the full range of service disciplines to create innovative multichannel solutions for national and international corporate clients.  By combining business and media strategy development with creative design, industry expertise and the latest digital communications technology, LBi offers a unique and uniquely valuable proposition.  LBi is listed on Nasdaq OMX Nordic in Stockholm and on NYSE Euronext in Amsterdam as (symbol: LBI).
www.lbi.com