New pocket camcorder and Flipshare in-built software bring new definition to online video creation and sharing
The world's smallest high definition (HD) pocket camcorder, the Flip MinoHD, is as of today, now available to buy in the UK announces Flip Video.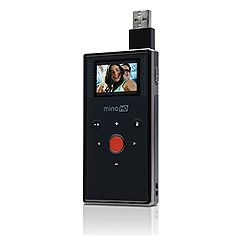 The Flip MinoHD
Weighing three ounces, the Flip MinoHD is lighter than a TV remote control and small enough to fit in your pocket. As it is HD it produces stunning picture clarity even in low light, with vibrant HD 720p video containing about five times more information than standard definition images.
As with other Flip Video products, Flip MinoHD features one-touch recording and digital zoom, with its signature flip-out USB stick allowing immediate upload onto any computer - the ultimate  creation for the growing community of social networkers that share their lives online. It incorporates instant playback, pause, fast forward, rewind, zoom and delete function.
Flip MinoHD comes with everything included, such as an inbuilt memory to record up to 60 minutes of HD-quality video on its 4GB built-in memory, so there is no need for expensive add-ons such as SD cards.
Ray Sangster, EMEA President at Flip Video said:
"Consumers have taken to heart the Flip Video because it makes it simple and fun to capture and share memories. The Flip MinoHD takes this to whole new level, so everyone from budding filmmakers, citizen journalists to proud parents can shoot and share in HD quality.
"The product has become one of the most successful camcorders in the U.S. and there has been substantial interest in an HD product from the UK so we are delighted to now launch here. With YouTube and Vimeo both now offering HD channels, sharing HD quality is even easier, so the timing is perfect."
The Flip MinoHD also includes brand new on-board software, FlipShare. The state-of-the-art software loads automatically as soon as you plug the camera into the computer, eliminating the hassle of installation.
Fully compatible with both Mac and Windows operating systems – the software makes it easier than ever to customise and share content, with easy drag-and-drop video editing and one-click uploading to YouTube, MySpace or email distribution.
Ray Sangster continued:
"Flipshare has been designed to be as simple to use as the Flip camcorders. Again, our mantra is to make the whole experience as easy as possible from point to shoot to upload to share, no matter if you are a budding Spielberg or first time user."
The Flip MinoHD follows the UK launch of Flip Ultra and Flip Mino in 2008. Flip Video has essentially redefined the camcorder market.  Since its initial launch, the Flip Video series have become the best selling camcorders in the U.S with almost three million camcorders sold, and Flip Video is enjoying the same success in the UK.
Flip Video camcorders are used by celebrities including Oprah Winfrey, Lily Allen, Jessica Alba.  Paris Hilton, Stella McCartney, Coldplay, U2, Travis, the Kooks, Stephen Fry, Katy Perry, Miley Cyrus and Lauren Conrad.
At just £169.99, the Flip MinoHD makes shooting and sharing crystal clear HD video simpler and more affordable.
The Flip Mino HD is available from Amazon, Play.com, Dixons, Currys.digital, PC World.
- Ends - 
Notes To Editors
For more information about Flip Video, visit the official UK website www.flipvideo.co.uk
About Flip Video UK Ltd
Flip Video is a pioneer in developing simple, affordable digital imaging solutions for the mass market.  The revolutionary Flip Video family of camcorders ignited a new category of video cameras that puts the power to shoot and share video into the pockets of everyday consumers. 
Flip Video camcorders are the world's first with on-board software to enable editing, organising, and seamless video uploading to YouTube, MySpace and other video sharing sites. 
For media information contact
Alex Myers/ Paula Figgett/ Sarah Mayer / Dave Robertson
T: 020 3043 4191
E: flipvideo@kaizo.net