• Kodak will sell Scan Pro 2000 microfilm scanners in Europe, Middle East and Africa
April 7, 2009 - Eastman Kodak Company and e-ImageData Corporation have announced an exclusive agreement outside of the US, Canada and Australia for Kodak to sell the ScanPro 2000 Microfilm Scanner.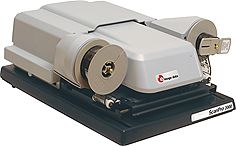 ScanPro 2000
With its single integral zoom lens providing magnifications from 7x to 100x, easy-to-use PowerScan™ software with features such as automatic focus, film advance, and 360 degree image rotation, the ScanPro 2000 is ideal as a walk-up device in libraries, archives and in other public and private research environments.  Ultra compact, it is a universal scanner designed for the rigors of public use to make it easier for people to quickly access information contained on traditional microfilm.
The ScanPro 2000 allows users to view, print, and scan all types of microforms – fiche, 16mm & 35mm roll film, aperture cards, micro opaques and so on via a PC.  Its purpose-designed carriers are specifically engineered to avoid film scratching and ball-bearing guides provide exceptional film positioning control, while offering smooth and sturdy performance.
With a one-second scan time only, after information on the microform is located using the unique image magnifier feature, images can then be scanned to print, email, USB key, CD and hard-drive and in many different file formats including PDF, jpeg and TIFF at up to 600 dpi[1].
Images can be previewed on a PC monitor in real-time and scanning quality can be optimised using TRUE-view™ image adjustment features to enhance brightness, contrast, cropping and deskew either manually or automatically. Changes made can be seen right on the PC screen before scanning, saving or printing, making the whole process of transferring information held on microforms that much easier as users don't have to scan images first to see how changes in settings effect scan quality. For complete control, access to features can be dictated and customised by administrators which simplifies day-to-day management.[2]
James Westoby, e-ImageData Corporation's chief executive officer, said "We are delighted to have such a highly-regarded company as Kodak selling this exciting new product for us. Kodak is an ideal partner because of its experience and expertise selling both analogue and digital solutions, coupled with a service and support organisation that is global."
The newly launched ScanPro 2000 microfilm scanner is the replacement for the popular ScanPro 1000 universal microforms scanner and has all the features and benefits of the previous model but with higher resolution optics, faster zoom, an integrated, precision digital film controller, touch screen support, and Energy Star compliance for reduced energy usage.
Using just 20 watts of power so environmentally friendly, the ScanPro 2000 supports Microsoft Windows 2000, XP and Vista operating systems and connects to a PC using a FireWire IEEE 1394 connector for maximum speed and performance.
The ScanPro 2000 comes with a one year warranty through Kodak Service and Support.[3]
Kodak Service and Support is a leading multi-vendor integrated services provider, delivering consulting, installation, maintenance, and support services for the commercial printing, graphic communications, document imaging and data storage industries. Kodak Service and Support professionals are uniquely qualified to provide services that control costs, maximise productivity, and minimise business risk.
Richard Broden, EAMER Product and Marketing Manager, Document Imaging, Eastman Kodak, says, "The ScanPro 2000 is an ideal complement to our existing micrographic product range and further reinforces our on-going commitment to the market.  With a small footprint, the ScanPro 2000 is easy to use and makes accessing information in microfilm a breeze to do."
The ScanPro 2000 is available immediately through Kodak's micrographic equipment channel partners at a list price starting at €5,795 depending upon configuration.
- Ends –
e-Image Data Corporation
Based in Wisconsin, USA and founded in 1989, e-Image Data Corporation is an international manufacturer of microfilm scanning systems and digital plain paper reader printers. Its products are sold under the ScanPro brand through a variety of OEM partners. 
Further information about e-Image Data Corporation can be found at www.e-imagedata.com
About Kodak
As the world's foremost imaging innovator, Kodak helps consumers, businesses, and creative professionals unleash the power of pictures and printing to enrich their lives.
To learn more, visit www.kodak.com, and our blogs: 1000words.kodak.com, and 1000nerds.kodak.com.
Kodak corporate news releases are now offered via RSS feeds. To subscribe, visit www.kodak.com/go/RSS and look for the RSS symbol. In addition, Kodak podcasts are viewable at www.kodak.com/go/podcasts. Podcasts may be downloaded for viewing on iTunes, Quicktime, or other PC-based media players. Users may also subscribe to Kodak podcasts via the iTunes Store by typing "Kodak Close Up" in the search field at the top of the iTunes Store window.  Kodak is a trademark of Eastman Kodak
Contacts:
Kodak Document Imaging, UK 
Jonathan Tripp
Marketing Manager UK & EAMER
Tel: +44 (0)1442 846633
E-Mail: jtripp@kodak.com
Web: www.kodak.com/go/docimaging
Tom Herbst PR Limited
Tom Herbst
Director
Tel: +44 (0)207 274 9937
Mob: +44 (0)7768 145571
E-Mail: tom@tomherbstpr.co.uk
[1] Dots per inch
[2] The customisable toolbar feature allows administrators, for example, to set up the ScanPro 2000 as just a microfilm reader, both a reader/printer, or the ability for users to view, print and then save information to CD, USB and so on.  
[3] Restrictions do apply in some countries