London UK; Palo Alto CA: - 14th April 2009: Cellcrypt (www.cellcrypt.com), the leading provider of secure mobile voice calling, today announced that it has opened a US office in Palo Alto, California to meet growing demand for encrypted voice solutions from North American customers.
Cellcrypt provides end-to-end solutions for encrypted voice calling between smartphones that prevent private conversations from being compromised. This enables individuals within corporations and governments to converse in a highly secure manner without the need for specialised devices. In addition to mobile-to-mobile calling, Cellcrypt also supports secure mobile-to-landline calling.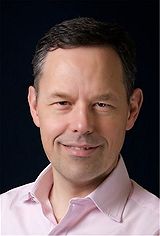 Simon Bransfield-Garth
Unlike traditional solutions that are based on older Circuit Switched Data technology, Cellcrypt uses the latest internet technology to provide unmatched voice call quality, international calling capability, high reliability across wireless networks and real-time encryption to levels specified by the US government. Cellcrypt technology is currently undergoing certification to the FIPS 140-2 standard approved by the US National Institute of Standard (NIST).
As Cellcrypt solutions operate on commonly available smartphones with an easy-to-use interface, rather than specialised equipment, Cellcrypt customers benefit from the latest features provided by leading mobile phone manufacturers on devices that they already own.
"Cellcrypt is excited to be expanding operations in the US at this time," said Richard Greco, President at Cellcrypt Inc. "Government agencies are well aware of the need to protect voice calls and now senior corporate executives are rapidly coming to appreciate how high-value, mobile, voice conversations are susceptible to interception, especially those that operate internationally in high-risk regions."
"The launch of Cellcrypt Inc. allows us to better service our existing US customers and partners as well as more rapidly address demand from new customers," said Simon Bransfield-Garth, CEO of Cellcrypt. "Our new US office is part of our growth plan to serve our global customers who have strong requirement for secure mobile voice solutions."
Cellcrypt recently expanded into the South American market through the acquisition of new customers in the region. The company also recently announced the launch of Cellcrypt PBX IAB a robust, man portable, field deployable solution that supports secure IP-based landline-to-landline and landline-to-mobile calls.
ends
About Cellcrypt
Cellcrypt Ltd is the leader in personal secure voice communications. Cellcrypt's secure IP-based technologies address the need of enterprises and governments for easy to manage yet robust privacy and voice encryption. Cellcrypt's solutions are being used, by governments and senior level executives, in some of the world's largest and best known organisations world-wide.
Cellcrypt's software solutions secures voice calls from cell phones and PBXs, using DH 2048 bit and AES 256 bit encryption, without degradation of call quality or affecting user experience and currently supports GPRS, EDGE, 3G, EV-DO and WiFi. Cellcrypt Ltd is a privately held company based in London, UK.
For more information please visit: www.cellcrypt.com
Press Contact:
John Sacke, Sacke & Associates Inc.
Tel: 416.493.5723
Email: johns@sackepr.copm
Patrick Smith, Joshua PR
Tel: + 44 (0) 7734 600553
Email: patrick.smith@joshuapr.com