NETGEAR Appoints Wick Hill To Expand Its Business Presence in Channel
Woking, UK and Bracknell, UK: 15th April, 2009 - Wick Hill has been appointed as a distributor for NETGEAR, worldwide provider of technologically advanced, branded networking products. The value added distributor (VAD) will carry NETGEAR's business networking solutions aimed at the SME market, to further increase the company's business presence in the channel. Wick Hill will focus on NETGEAR's ProSecure range - the company's latest web and email threat management appliances.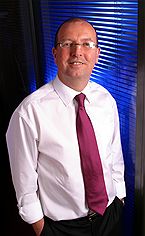 Ian Kilpatrick
NETGEAR's ProSecure STM series offers enterprise-class security to SMEs by protecting them from the entire web or email threat type rather than a small subset of it. As this technology is normally too expensive for SMEs, NETGEAR's cost-effective ProSecure range solves this problem with its patent-pending web-optimised Stream Scanning architecture.
The ProSecure range includes the STM150, STM300 and STM600 which contain the same security functionality with increasing amounts of bandwidth to support various-sized SMEs.
Wick Hill will also be offering NETGEAR's complete range of business products including solutions for wireless, storage, security, web/email security, routers, firewalls and switches.
Ian Kilpatrick, chairman Wick Hill Group, said: "The launch of the ProSecure range marks NETGEAR's entry into this specific security market and the company has appointed us for our extensive experience of working with vendors in this area. We have worked with NETGEAR previously in Germany and have an in-depth understanding of their products.  NETGEAR is a well established brand with a proven track record in entering markets and making a significant impact in the channel. We are looking forward to working with NETGEAR and supporting its partners."
Mark Power, UK managing director for NETGEAR, said: "As we only sell through the channel, we rely heavily on good relationships with our partners to increase our presence. We appointed Wick Hill based upon their strong background in security and commitment to grow business markets, and are confident that this partnership will have a significant impact on the future of our business. "
About Wick Hill
Established in 1976, value added distributor Wick Hill specialises in secure infrastructure solutions. The company's portfolio covers security, performance, access, services and management. Wick Hill sources and delivers best-of-breed, easy-to-use solutions through its channel partners, providing customer support, implementation, technical services and authorised training courses.
The company works closely with vendors and its portfolio includes solutions from leading names such as WatchGuard, Check Point, Vasco, Allot, Kaspersky Lab, Barracuda and Marshal8e6. Wick Hill Ltd is part of Wick Hill Group, based in Woking, Surrey with sister offices in Hamburg. Users of products sourced through Wick Hill include most of the Times Top 1000 companies.  www.wickhill.com
About NETGEAR Inc
NETGEAR (NASDAQGM:NTGR) designs innovative, branded technology solutions that address the specific networking, storage and security needs of Small-to-Medium Businesses (SMBs) and home users. The company offers an end-to-end networking product portfolio to enable users to share Internet access, peripherals, files, multimedia content, and applications among multiple computers and other Internet-enabled devices. Products are built on a variety of proven technologies such as wireless, Ethernet and powerline, with a focus on reliability and ease-of-use. NETGEAR products are sold in over 29000 retail locations around the globe and via more than 41,000 value-added resellers. The company's headquarters are in San Jose, Calif., with additional offices in 25 countries. NETGEAR is an ENERGY STAR® partner. More information is available by visiting www.netgear.co.uk.
ENDS
For further press information, please contact Annabelle Brown, public relations consultant for Wick Hill, on 01326 212130, email abpublicrelations@btinternet.com.
For reader queries, please contact Wick Hill on 01483 227600, web www.wickhill.com. For pic of Ian Kilpatrick, please contact Annabelle Brown or download from http://www.wickhill.com/company/press/pictures.php