KXEN's next generation automated data mining software is a strategic solution for 90% of user organisations and has won their support and praise in a new customer satisfaction survey, the findings of which are revealed today.
Of 2,000 users polled 90% of those responding said the company's advanced analytics software was strategic to their activity, 87% were highly or very highly satisfied and 85% agreed the software had met or exceeded all of their expectations. The results underscore KXEN's growing importance in a market traditionally dominated by more costly, harder to use first generation offerings.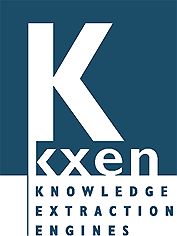 Logo
KXEN's analytic software was also highly rated for its simple, clear interface with all respondents agreeing that KXEN solutions were easy to use, and 90% stating its new graphical front end had brought yet more usability benefits. Confirming these findings, users responding included sales, marketing and other line of business staff as well as specialist analysts, data miners, academics and statisticians.
Turning to the results of using KXEN's software, 98% of all those responding stated it had improved their overall business with the same number agreeing it had speeded up their data modeling activities. 96% said KXEN had increased the value of predictive analytics in their companies.
KXEN's founder and CEO Roger Haddad welcomed the survey findings, coming as they do after a year of growth and innovation at the company: "What our customers are telling us is that the KXEN philosophy of making fast and affordable analytics that business people can use is absolutely the right one, especially at a time when value, productivity and results matter more than ever.
"It's particularly significant that even in organisations with large investments in traditional first generation analytics tools, KXEN is the data mining software they reach for when they need fast, accurate intelligence about their business and their markets."
Users taking part in the survey also gave high ratings to KXEN's ease of installation, configuration and integration with third party databases and reporting tools. The company's after-sales support was rated highly by all respondents, and all said they would happily recommend KXEN as a data mining vendor.
The survey drew participants from the US and Canada, mainland Europe and the UK, South America and the Middle East as well as China, Japan and India. Industries represented included telecommunications, banking, financial services, retail, and information services. Those taking part came from multiple disciplines including marketing, sales, strategy management, IT, and risk. Applications included in the findings were cross- and up-selling, churn management and retention, customer acquisition, knowledge and loyalty.
About KXEN
KXEN, The Data Mining Automation Company™ delivers next-generation Customer Lifecycle Analytics to enterprises that depend on analytics as a competitive advantage. KXEN's Data Mining Automation Solution drives significant improvements in customer acquisition, retention, cross-sell and risk applications. It also integrates predictive analytics into strategic business processes, allowing our customers to drive greater value into their business. Find out more by visiting www.kxen.com
Sage Partnership
+44 (0)118 934 4007
geoff@sagepartnership.com
KXEN
Caroline Tailleferd
+33 1 41 44 79 54
caroline.tailleferd@kxen.com