- Created by neural software experts Grossbay AG, Hulbee is the first major step towards an intelligent search engine.
Leading Swiss software company, Grossbay AG, has launched its new search application http://hulbee.com to challenge the dominance of Google by providing users with a more intelligent search capability.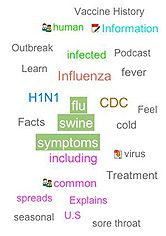 Example of a Hulbee data cloud for swine flu
Based on the Hulbee knowledge management programme developed by Grossbay to assist companies in managing their knowledge databases, Hulbee provides the first truly "intelligent search" facility, allowing users to access information intuitively via a data cloud.
Users searching via http://hulbee.com will not get the normal long list of pages containing their search words, but will instead get a data cloud containing a number of other key words that will help the user define their search in a more natural way.
This new way of searching narrows results by searching for thematic connected keywords, which are then displayed as a data cloud. This enables the user to see the complete context of a search term, which otherwise would still be hidden in long lists of results. 
Hulbee uses knowledge management software, originally developed to assist enterprises in managing their information by proposing related topics when a search word or term is entered, therefore narrowing the results. Hulbee builds on the comprehensive search indexing provided by its partner company, Yahoo!
If you carry out a topical search for "swine flu symptoms" on http://hulbee.com, you would see a data cloud as a result (see visual below). From that cloud you are then able to refine your search more easily without having to open up endless websites hoping to find the information you want.
Andreas Wiebe, CEO of Grossbay, said: "Searching for information on the internet is taking too long:  there is just too much.  Hulbee reduces search times by presenting information in a manageable list.  It's intuitive so everyone will find it easy to use."
- Ends -
For further information, please contact: 
Nicola Males, Paratus Communications
nmales@paratuscommunications.com
Telephone: 07976 652491
About Grossbay AG
Grossbay AG is a publicly traded, European software company with headquarters in Kreuzlingen, Switzerland. The current staff of 59 has up to 25 years of experience in the development of neural software. In business, as well as in the end-user software market, Grossbay AG has been providing successful information and knowledge analysis for a number of years. Grossbay AG developed the Hubble program for knowledge management in enterprises with the aim of "Global Know-how Access" - direct access to all existing knowledge inside the enterprise. With its web application, Hulbee, Grossbay AG has brought to market a new kind of Internet search. Grossbay AG is listed on the Frankfurt Stock Exchange.